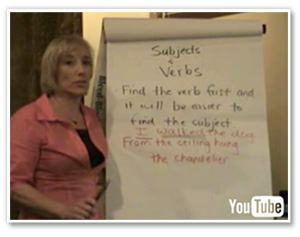 English Usage Videos
You can now learn all about who and whom, affect and effect, subjects and verbs, adjectives and adverbs, commas, semicolons, quotation marks, and much more by just sitting back and enjoying these short, easy-to-follow videos on usage.
---
Thank you for your efforts to remind us of all those rules we were supposed to learn in grammar school!
- Pam B.
Your Blue Book is clear, concise, and comprehensive!
- Banu E.
Translator, English Teacher, Turkey
I LOVE getting your newsletters. I learn something new each week.
- Margaret S.
Your interactive quizzes and videos are wonderful—short, engaging, and focused.
- Debbie M.
Instructor, Business Studies, Canada
Rather than tell my masters' students, "This is how I know it is supposed to be," I plan to tell them about your wonderful site.
- Dee J.
University Nursing Dept.
I like the video clips as I'm really an auditory learner. Thanks a million!
- Kathy S.