Who vs. Whom Video - Part 1
You can now learn all about who vs. whom by just sitting back and enjoying this short, easy-to-follow video on usage.
---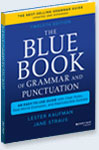 Get Your Copy of The Blue Book of Grammar and Punctuation
#1 Resource for Teachers, Students, Professionals, and SAT Preparation
All the grammar, punctuation, and usage rules and examples on the website plus dozens of quizzes with answers.