About the author, Jane Straus
As we first announced in our weekly E-Newsletter of March 8, 2011, we are deeply sorry to inform all of our loyal readers and fans that Jane Straus passed away on February 25, 2011. For two years Jane waged a heroic battle with brain cancer. Unfortunately, medical science only has treatments but no cure for this disease. That did not deter Jane, though, from continuing to be fully dedicated to her family, friends, and her GrammarBook.com readership right up until the end.
Jane wanted The Blue Book of Grammar and Punctuation and the GrammarBook.com website to survive and flourish in order to serve anyone and everyone seeking to improve English grammar and punctuation skills. Lester Kaufman, her husband of 23 years, along with the skilled staff of our webmaster, Weblinx Inc., will ensure that Jane's legacy lives on.
Back in 1975, Jane was a 21-year-old undergraduate at the University of California looking for a job as a waitress. However, the Universe had other plans for her. One day, she got a call from someone at the State Personnel Board. "Jane, according to one of your professors, you can write well. Can you teach a one-day class in English to state employees?" Too naïve to decline, Jane jumped at the chance to go from Jane Straus, Aspiring Waitress, to Jane Straus, Training Consultant.
Scouring the library for a book that conveyed the rules of English in, well, plain English, Jane got frustrated. With little time to spare, she wrote the rules her way, made up some exercises, ran off some copies, clipped them together, and showed up for class. Little did she realize that she was creating The Blue Book of Grammar and Punctuation, which, thanks to the Internet 22 years later, has become a perennial bestseller on Amazon.
Jane also became a renowned life and relationship coach and the author of the popular inspirational book, Enough Is Enough! Stop Enduring and Start Living Your Extraordinary Life. She had been interviewed by national media such as ABC and NBC and had written for publications such as USA Today and Woman's World.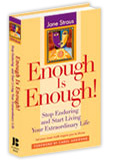 People often asked Jane how she blended her English teacher persona with her wit and wisdom in matters of the heart. Her answer was, "It's all self-help. Whether I'm figuring out a way to explain the use of a semicolon or working with someone who is suffering from addiction, there is a path."

It should come as no surprise that Jane's motto was, "Together We Can Do This!"
Learn more about how you can stop being run by your fears and start enjoying the extraordinary life you deserve by visiting StopEnduring.com.
---
GB/Jane Straus Memorial Scholarship Fund
Jane was the judge and grammar guru for the first-ever Grammar Bee held at the California State University, San Bernardino campus in Palm Desert. A scholarship fund has been established at the University in Jane's memory to provide a one thousand dollar scholarship to be awarded each year to a deserving student aspiring to be a teacher of English.
If you would like to help us continue Jane's legacy by contributing to the scholarship fund, you may make your check out to: CSUSB Philanthropic Foundation (please place GB/Jane Straus Memorial Scholarship Fund in the "Memo" or "For" line).

Mail your donation to:
Dean Fred Jandt
CSUSB-Palm Desert Campus
37-500 Cook Street
Palm Desert, CA 92211
Donations are fully tax deductible.

---
Forget 'The Best Is Yet To Come,' It's Here! As a college professor of writing for eight years, I have checked out many books on the easiest way to present our difficult English language. Jane Straus's The Blue Book of Grammar and Punctuation is the best book I have found to teach writing and grammar. Ms. Straus gets right to the point. I would highly recommend it to anyone who teaches English, grammar, and writing.
- C.M. Gingiss,
College Professor
Highland Park, IL
As a high school teacher and corporate computer trainer, I have searched for a grammar and punctuation book that has the rules and well-written examples. THIS IS THE BOOK. Thank you, Jane, for such a tremendous book and an educational websie!
- Sandy Overton Flatt,
Instructor with Prosser School of Technology/New Albany-Floyd County Consolidated School Corporation