Welcome to your GrammarBook.com e-newsletter.
I absolutely love GrammarBook.com! I use it almost every day.
—Diane L.





I had been looking for a grammar book that was both erudite and user-friendly. I stumbled upon The Blue Book of Grammar and Punctuation, and my search ended. It is exactly what I had been looking for.
—Joe H.





Your weekly
e-newsletters are absolutely brilliant and brighten my week.
—Sarah D.

When Idioms Become Monsters

Close but no cigar, fly off the handle, he is pulling your leg, I was beside myself—we see idioms like these all the time, even though the closer we look, the less sense many of them make.

Sometimes two familiar expressions get jumbled. When that happens, the result is what you might call a "Frankenstein formation," a nod to the mad scientist who created a monster by conjoining parts that didn't belong together.

One Frankenstein formation that may never go away is center around. You see and hear it everywhere. Two of the numerous examples found online: "The conflict centers around the atrocities of war." "My research centers around the geometry of moduli spaces."

The language scholar Wilson Follett calls center around a "geometrically senseless expression." It results from mashing together center on and revolve around. Because those phrases are roughly synonymous, over time they merge in the mind.

Some otherwise intelligent language mavens now defend center around, apparently reasoning that if enough heedless people keep saying something, it becomes acceptable. Others are having none of it. As Paul Brians says in Common Errors in English Usage: "Two perfectly good expressions—'center on' and 'revolve around'—get conflated in this nonsensical neologism. When a speaker says his address will 'center around the topic of' whatever, my interest level plummets."

Another hardy Frankenstein formation is fall between the cracks: "News reports flash a daily barrage of stories about children who fall between the cracks." "Every day this country's health insurance situation lets people fall between the cracks."

Picture a typical sidewalk. There are cracks—narrow grooves—at either end of the concrete slabs. So what is "between the cracks"? Concrete. Anything that falls between the cracks is falling onto a rock-hard surface.

Not only is that painful, it is not the intended meaning. The original expression is fall through the cracks, which connotes a different kind of painful experience: the pain of being overlooked, ignored, or abandoned.

One theory is that fall between the cracks resulted from scrambling fall through the cracks and fall between two stools, an idiom roughly meaning "to fail," which dates back to the late fourteenth century.

Although some idioms are revealed as absurd under close analysis, many of them made more sense before time or misuse undermined them. Even if they now strike us as a bit off, like a daft but well-meaning old friend, it is up to us to ensure that nobody addles them further.

Because of the e-newsletter's large readership, please submit your English usage questions through GrammarBook.com's "Grammar Blog."
---
Free BONUS Quiz for You!
[[firstname]], because you are a subscriber to the newsletter, you get access to one of the Subscription Members-Only Quizzes. Click here to take a Confusing Words and Homonyms Quiz and get your scores and explanations instantly!
Follow @GrammarBook on Twitter

GrammarBook.com is on Twitter! Follow @GrammarBook for weekly grammar tips, news, and information!
More Good News for Quiz Subscribers

We are pleased to announce that we have added even more quizzes to help you challenge yourself, your students, and your staff. We added quizzes to existing categories and created some new categories such as "Confusing Verbs," "Subjunctive Mood," "Comprise," "Sit vs. Set vs. Sat," and "Spelling."

We reviewed and strengthened every quiz on our website to ensure consistency with the rules and guidelines contained in our eleventh edition of The Blue Book of Grammar and Punctuation.

If you think you have found an error in a quiz, please email us at help@grammarbook.com.

---

"So convenient … hundreds of quizzes in one click."

[[firstname]], Subscribe to receive hundreds of English usage quizzes not found anywhere else!

Take the quizzes online or download and copy them.
Get scored instantly.
Find explanations for every quiz answer.
Reproduce the quizzes to your heart's content.
EASY to use.
No software to download.
No setup time.
A real person to help you if you have any questions!
Instructors and Employers: we make your life easier!
Assign quizzes to your students or employees.
Students log in from anywhere.
Scores are tallied and compiled for you.
You decide whether to let students see their own scores and quiz explanations.
Let GrammarBook.com take the hassle out of teaching English!
"Fun to test my skills!"
"The explanations really help … thanks!"
Your choice: Subscribe at the $29.95 or $99.95 level ($30 off - previously $129.95).
"I download the quizzes for my students who don't have computer access."
Subscribe today to receive hundreds of English usage quizzes not found anywhere else!
"Makes learning English FUN!"
---
Don't need all the quizzes at once?
You can now purchase the same quizzes individually for ONLY 99¢ each. Purchase yours here.
---
Get Yours Today!

Get Amazon's No. 1 Best-seller in Four Categories!
No. 1 in Grammar
No. 1 in Reading
No. 1 in Lesson Planning
No. 1 in Vocabulary

The Blue Book of Grammar
and Punctuation
by Jane Straus, Lester Kaufman, and Tom Stern

The Authority on English Grammar!
Eleventh Edition Now Available

Have You Ordered Your Copy Yet?

An indispensable tool for busy professionals, teachers, students, homeschool families, editors, writers, and proofreaders.

Available in print AND as an e-Book! Over 2,000 copies are purchased every month!

Hundreds of Grammar, Punctuation, Capitalization, and Usage Rules
Real-World Examples
Spelling / Vocabulary / Confusing Words
Quizzes with Answers

The publisher is extending its discount offer until December 31, 2015! If you live in the United States or Canada, order the new edition of The Blue Book through Wiley.com and get 30 percent off and FREE shipping. Simply go to bit.ly/1996hkA and use discount code E9X4AYY.

For those of you who live outside the U.S. and Canada, although the publisher is not able to offer free shipping, you will get 35 percent off to help offset your shipping costs. Simply go to bit.ly/1996hkA and use discount code E9X4A.
---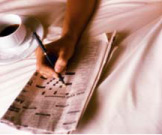 Wordplay

Rules for Writing Good: Writing Tips
Beginning this week, we are going to run selections from a perverse set of rules that are guilty of the very mistakes they seek to prevent. English teachers, students, scientists, and writers have been circulating these self-contradictory rules for more than a century.

1. Each pronoun should agree with their antecedent.
2. Between you and I, case is important.
3. A writer must be sure to avoid using sexist pronouns in his writing.
4. Verbs has to agree with their subjects.

---
Learn all about who and whom, affect and effect, subjects and verbs, adjectives and adverbs, commas, semicolons, quotation marks, and much more by just sitting back and enjoying these easy-to-follow lessons. Tell your colleagues (and boss), children, teachers, and friends. Click here to watch.