Welcome to your GrammarBook.com e-newsletter.
I forwarded the GrammarBook.com
e-newsletter to several of my grammar-obsessed friends and they are hooked.
—Sedrick H.





The Blue Book of Grammar and Punctuation's rules are direct, succinct, and practically organized for easy use by a wide audience.
—Zena D.





I express my heartfelt gratitude for all the grammar tips that I have received from you. They have been remarkably helpful to me.
—Ben U.

Slipshod Extension

Henry W. Fowler's Dictionary of Modern English Usage, published in 1926, is still the greatest of all English grammar guides. The first edition or the lightly revised second edition (1965) is highly recommended.

Sprinkled among Fowler's entries are topics that typify the author's innovative approach to the study of grammar. His titles for these entries are often sly, with a soupçon of snark. Some examples: Sturdy Indefensibles, Presumptuous Word-Formation, Unequal Yokefellows, Pairs and Snares, Slipshod Extension.

That last topic is today's focus, because slipshod extension may be more widespread nowadays than it was ninety years ago. The phrase refers to the maddening tendency of careless or ignorant speakers and writers to debase a word by overextending it beyond its proper meaning.

Calling a spider an insect is slipshod extension of the word insect: a spider is an arachnid. Calling a whale a fish is slipshod extension of the word fish: a whale is a marine mammal.

Here are a few of the countless other words that are susceptible to this lamentable practice:

Alibi Be careful when you use alibi, originally a Latin word meaning "somewhere else." When you say, "I have an alibi," it means that you can prove you were elsewhere when the crime occurred. Fowler said of alibi: "That it should have come to be used as a pretentious synonym for excuse is a striking example of the harm that can be done by SLIPSHOD EXTENSION."

Dilemma The di in dilemma (like dichotomy or dioxide) indicates two: if you have a dilemma, it means you're facing two tough choices. Do not use dilemma when all you mean is predicament. Fowler: "The word is a term of logic, meaning an argument that forces an opponent to choose between two alternatives both unfavourable to him: he is … on the horns of a dilemma, either of which will impale him."

Literally As all nitpickers know well and grow weary of saying, literally should be used only with the bare facts—no exaggerations, no analogies. Yet statements like They literally threw him under the bus show no sign of abating. What could be more slipshod than applying literally to an incident that literally never happened? Fowler: "Such false coin makes honest traffic in words impossible."

Two revised editions of A Dictionary of Modern English Usage have been published in the last twenty years, but those in charge of editing these later versions have overruled many of Fowler's traditionalist views and insights. In the process they have stifled one of the most distinctive and delightful voices in the field of linguistics.

Because of the e-newsletter's large readership, please submit your English usage questions through GrammarBook.com's "Grammar Blog."
---
Free BONUS Quiz for You!
[[firstname]], because you are a subscriber to the newsletter, you get access to one of the Subscription Members-Only Quizzes. Click here to take a Subjunctive Mood Quiz and get your scores and explanations instantly!
Follow @GrammarBook on Twitter

GrammarBook.com is on Twitter! Follow @GrammarBook for weekly grammar tips, news, and information!
More Good News for Quiz Subscribers

We are pleased to announce that we have added even more quizzes to help you challenge yourself, your students, and your staff. We added quizzes to existing categories and created some new categories such as "Confusing Verbs," "Subjunctive Mood," "Comprise," "Sit vs. Set vs. Sat," and "Spelling."

We reviewed and strengthened every quiz on our website to ensure consistency with the rules and guidelines contained in our eleventh edition of The Blue Book of Grammar and Punctuation.

If you think you have found an error in a quiz, please email us at help@grammarbook.com.

---

"So convenient … hundreds of quizzes in one click."

[[firstname]], Subscribe to receive hundreds of English usage quizzes not found anywhere else!

Take the quizzes online or download and copy them.
Get scored instantly.
Find explanations for every quiz answer.
Reproduce the quizzes to your heart's content.
EASY to use.
No software to download.
No setup time.
A real person to help you if you have any questions!
Instructors and Employers: we make your life easier!
Assign quizzes to your students or employees.
Students log in from anywhere.
Scores are tallied and compiled for you.
You decide whether to let students see their own scores and quiz explanations.
Let GrammarBook.com take the hassle out of teaching English!
"Fun to test my skills!"
"The explanations really help … thanks!"
Your choice: Subscribe at the $29.95 or $99.95 level ($30 off - previously $129.95).
"I download the quizzes for my students who don't have computer access."
Subscribe today to receive hundreds of English usage quizzes not found anywhere else!
"Makes learning English FUN!"
---
Don't need all the quizzes at once?
You can now purchase the same quizzes individually for ONLY 99¢ each. Purchase yours here.
---
Get Yours Today!

Get Amazon's No. 1 Best-seller in Four Categories!
No. 1 in Grammar
No. 1 in Reading
No. 1 in Lesson Planning
No. 1 in Vocabulary

The Blue Book of Grammar
and Punctuation
by Jane Straus, Lester Kaufman, and Tom Stern

The Authority on English Grammar!
Eleventh Edition Now Available

Have You Ordered Your Copy Yet?

An indispensable tool for busy professionals, teachers, students, homeschool families, editors, writers, and proofreaders.

Available in print AND as an e-Book! Over 2,000 copies are purchased every month!

Hundreds of Grammar, Punctuation, Capitalization, and Usage Rules
Real-World Examples
Spelling / Vocabulary / Confusing Words
Quizzes with Answers

The publisher is extending its discount offer until December 31, 2015! If you live in the United States or Canada, order the new edition of The Blue Book through Wiley.com and get 30 percent off and FREE shipping. Simply go to bit.ly/1996hkA and use discount code E9X4AYY.

For those of you who live outside the U.S. and Canada, although the publisher is not able to offer free shipping, you will get 35 percent off to help offset your shipping costs. Simply go to bit.ly/1996hkA and use discount code E9X4A.
---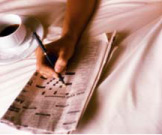 Wordplay

Punctuation can change meaning easily in English:

Dear John:
I want a man who knows what love is all about. You are generous, kind, thoughtful. People who are not like you admit to being useless and inferior. You have ruined me for other men. I yearn for you. I have no feelings whatsoever when we're apart. I can be forever happy—will you let me be yours?

Gloria

---
Dear John:
I want a man who knows what love is. All about you are generous, kind, thoughtful people, who are not like you. Admit to being useless and inferior. You have ruined me. For other men, I yearn. For you, I have no feelings whatsoever. When we're apart, I can be forever happy. Will you let me be?

Yours,
Gloria

---
Learn all about who and whom, affect and effect, subjects and verbs, adjectives and adverbs, commas, semicolons, quotation marks, and much more by just sitting back and enjoying these easy-to-follow lessons. Tell your colleagues (and boss), children, teachers, and friends. Click here to watch.