Welcome to your GrammarBook.com e-newsletter.
"Your Blue Book of Grammar and Punctuation is a comprehensive, understandable, and elegant grammar guide."
—Amy S.





"I enjoy the continuous learning through your weekly
e-newsletter."
—Gail V.





"GrammarBook.com is one of the most accurate, informative, and friendly websites I have ever visited."
—Carl W.

Anachronisms: Time Out!

Shakespeare typing Hamlet. JFK on a cellphone. Elvis using Twitter. Each is an anachronism, the technical term for a chronological blunder.

Many years ago I went with my family to see Elizabeth Taylor in Cleopatra. As young as I was, I gave up on the movie in utter disgust when Cleopatra winked at Caesar. I didn't care that the filmmakers were having a little fun with their presumably sophisticated audience. To me, it was a deal breaker.

In HBO's Boardwalk Empire, set in Atlantic City during Prohibition, loving care and great expense went into the costumes and the lavish set design. So I was jolted when, in the first episode—directed by Martin Scorsese no less—a showgirl shrieks, "No way!" My Partridge Dictionary of Slang says that no way first appeared in 1968.

In Mail Order Bride, a western set in 19th century Wyoming, a character says, "She couldn't take the lifestyle." The Oxford English Dictionary says life-style was coined in 1929. That surprised me, because I would have sworn that lifestyle didn't show up until the 1960s.

So beware what you call an anachronism—you might get taken down a peg, as I was by the 1933 film A Man's Castle, when Spencer Tracy says, "I'm hip to all the panhandling routines." Really? He was "hip" back in 1933? I'd have lost that bet.

I was also put in my place by the great AMC series Mad Men when a character in the 1960s said "synchronicity," a word that became trendy with the popular culture in the eighties. But it turns out synchronicity goes back to the fifties.

The creator of Mad Men, Matthew Weiner, was meticulous in his replication of sixties vernacular. Good for him, because a lot of watchdogs were paying close attention. I've read that Weiner was grilled about the show's use of self-worth, regroup, and recon, but like synchronicity, those terms were around back then. "When in doubt," Weiner said, "I don't use it."

Not all the quibbles were false alarms. Even an artist as committed as Weiner is going to slip up, as when he had someone say, "You have to be on the same page as him." On the same page, I understand, didn't enter the language until the late seventies.

Other Mad Men lines I had doubts about include "I'm a glass-half-full kind of girl" and "Give it a rest." These both sound decidedly post-sixties. Why not use expressions more typical of the period, like "I'm a cockeyed optimist" and "Knock it off"? Another episode had "push back." If your drama is set in 1965, why use a term that's overused by politicians and pundits in 2015? If a phrase sounds too current, it risks spoiling the illusion.

And even if you could prove to me that winking goes all the way back to ancient Egypt, it still didn't work in Cleopatra.

—Tom Stern

Because of the e-newsletter's large readership, please submit your English usage questions through GrammarBook.com's "Grammar Blog."
---
Free BONUS Quiz for You!
[[firstname]], because you are a subscriber to the newsletter, you get access to one of the Subscription Members-Only Quizzes. Click here to take a Fewer vs. Less Quiz and get your scores and explanations instantly! Since there are specific rules that apply to this topic, you may wish to review our blog post "Fewer vs. Less" prior to taking this quiz.
---
More Good News for Quiz Subscribers

We are pleased to announce that we have added even more quizzes to help you challenge yourself, your students, and your staff. We added quizzes to existing categories and created some new categories such as "Confusing Verbs," "Subjunctive Mood," "Comprise," "Sit vs. Set vs. Sat," and "Spelling."

We reviewed and strengthened every quiz on our website to ensure consistency with the rules and guidelines contained in our eleventh edition of The Blue Book of Grammar and Punctuation.

If you think you have found an error in a quiz, please email us at help@grammarbook.com.

---

"So convenient … hundreds of quizzes in one click."

[[firstname]], Subscribe to receive hundreds of English usage quizzes not found anywhere else!

Take the quizzes online or download and copy them.
Get scored instantly.
Find explanations for every quiz answer.
Reproduce the quizzes to your heart's content.
EASY to use.
No software to download.
No setup time.
A real person to help you if you have any questions!
Instructors and Employers: we make your life easier!
Assign quizzes to your students or employees.
Students log in from anywhere.
Scores are tallied and compiled for you.
You decide whether to let students see their own scores and quiz explanations.
Let GrammarBook.com take the hassle out of teaching English!
"Fun to test my skills!"
"The explanations really help … thanks!"
Your choice: Subscribe at the $29.95 or $99.95 level ($30 off - previously $129.95).
"I download the quizzes for my students who don't have computer access."
Subscribe today to receive hundreds of English usage quizzes not found anywhere else!
"Makes learning English FUN!"
---
Don't need all the quizzes at once?
You can now purchase the same quizzes individually for ONLY 99¢ each. Purchase yours here.
---
Get Yours Today!

Get Amazon's No. 1 Best-seller in Four Categories!
No. 1 in Grammar
No. 1 in Reading
No. 1 in Lesson Planning
No. 1 in Vocabulary

The Blue Book of Grammar
and Punctuation
by Jane Straus, Lester Kaufman, and Tom Stern

The Authority on English Grammar!
Eleventh Edition Now Available

Have You Ordered Your Copy Yet?

An indispensable tool for busy professionals, teachers, students, homeschool families, editors, writers, and proofreaders.

Available in print AND as an e-Book! Over 2,000 copies are purchased every month!

Hundreds of Grammar, Punctuation, Capitalization, and Usage Rules
Real-World Examples
Spelling / Vocabulary / Confusing Words
Quizzes with Answers

The publisher is extending its discount offer until August 31, 2015! If you live in the United States or Canada, order the new edition of The Blue Book through Wiley.com and get 30 percent off and FREE shipping. Simply go to bit.ly/1996hkA and use discount code E9X4AYY.

For those of you who live outside the U.S. and Canada, although the publisher is not able to offer free shipping, you will get 35 percent off to help offset your shipping costs. Simply go to bit.ly/1996hkA and use discount code E9X4A.
---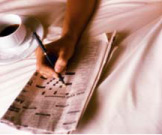 Wordplay

He could lead if he would get the lead out.

The soldier decided to desert his dessert in the desert.

Since there is no time like the present, he thought it was time to present the present.
---
Learn all about who and whom, affect and effect, subjects and verbs, adjectives and adverbs, commas, semicolons, quotation marks, and much more by just sitting back and enjoying these easy-to-follow lessons. Tell your colleagues (and boss), children, teachers, and friends. Click here to watch.