Welcome to your GrammarBook.com e-newsletter.
"I am an editor of children's books. I bought The Blue Book of Grammar and Punctuation and use it constantly to review my work."
—Mildred R.





"I look forward to your e-newsletters each week. Your team always offers good topics—well researched and well explained."
—Nick B.





"I am thrilled to have a resource such as GrammarBook.com at my fingertips to share with my students. Thanks for such a wonderful tool."
—Chris M.

Media Watch

Here is another assemblage of less than shining achievements in journalism.

• From a review of a movie about a ninety-three-year-old designer: "She makes no attempt to deny the pains and rigors of life in her ninth decade." Let's see now, a three-year-old is in her first decade; a thirteen-year-old is in her second decade; a twenty-three-year-old is in her third decade. Do the math: a ninety-three-year-old is in her tenth decade.

• "It's a real kudo for Yahoo." There is no such thing as "a kudo." Kudos is a Greek word meaning "praise" or "glory." Despite the s on the end, kudos is singular, not plural.

• "Green yelled, 'I told ya'll it was over!!!' " The punctuation is a mess even before the sentence ends with that intemperate outburst of exclamation points. Apparently the writer's MO is to just fling apostrophes around and pray they make a smooth landing. Well, the one in "ya'll" sure didn't. Why would anyone want to harm a nice word like all by disfiguring it with a wayward apostrophe? The correct contraction of you all is y'all. The apostrophe replaces the ou in you—just as it stands in for the wi in you will when we write you'll or the ha in you have when we write you've. What missing letter or letters does the apostrophe in ya'll replace?

• Three sentences from three articles that share one problem: "But improvements could take awhile." "Every once in awhile, then, you feel like you're watching an old mystery." "Hanging around with fantastic writers rubs off on you after awhile."

All three writers should have used the two-word noun phrase a while. It is worthwhile preserving the difference between awhile and a while. As one word, awhile is an adverb meaning "for a while." Obviously the writer of the first sentence didn't mean "improvements could take for a while," which makes no sense. He should have gone with the noun phrase "a while," making the noun "while" the object of "could take."

The writers of the second and third sentences have mistakenly made awhile the object of the prepositions in and after. But only nouns and pronouns may be objects of prepositions, never adverbs. Claire Kehrwald Cook sums it all up in her book Line by Line: "Use the article [a] and noun [while], not the adverb [awhile], after a preposition … Use awhile only where you can substitute the synonymous phrase for a time."

• "It is a memorial to the thousands of soldiers who fought and died in the June 18, 1815 battle of Waterloo." Add a comma after "1815." Most people still use a comma to separate the day of the month from the year, but many forget to put another comma after the year.

• "Our design critic's favorite example of 'defensive architecture' are the wooden benches on Mission." The writer forgot what every schoolchild learns the first week of English class: The verb must agree with the subject. The subject is "example." The critic's favorite example is the wooden benches. Case closed.

Because of the e-newsletter's large readership, please submit your English usage questions through GrammarBook.com's "Grammar Blog."
---
Pop Quiz

The following are sentences recently heard over the airwaves. See if you can spot the errors. Our answers are at the bottom of the newsletter.

1. "Iran is as great a threat that Israel has ever faced."
2. "It's a extremely politicized department."
3. "Every one of our allies in the region are up in arms."
4. "It's a good opportunity for whomever becomes the nominee."
5. "This could spurn other people to do the same thing."


---
Free BONUS Quiz for You!
[[firstname]], because you are a subscriber to the newsletter, you get access to one of the Subscription Members-Only Quizzes. Click here to take a Finding Nouns, Verbs, and Subjects Quiz and get your scores and explanations instantly!
---
More Good News for Quiz Subscribers

We are pleased to announce that we have added even more quizzes to help you challenge yourself, your students, and your staff. We added quizzes to existing categories and created some new categories such as "Confusing Verbs," "Subjunctive Mood," "Comprise," "Sit vs. Set vs. Sat," and "Spelling."

We reviewed and strengthened every quiz on our website to ensure consistency with the rules and guidelines contained in our eleventh edition of The Blue Book of Grammar and Punctuation.

If you think you have found an error in a quiz, please email us at help@grammarbook.com.

---

"So convenient … hundreds of quizzes in one click."

[[firstname]], Subscribe to receive hundreds of English usage quizzes not found anywhere else!

Take the quizzes online or download and copy them.
Get scored instantly.
Find explanations for every quiz answer.
Reproduce the quizzes to your heart's content.
EASY to use.
No software to download.
No setup time.
A real person to help you if you have any questions!
Instructors and Employers: we make your life easier!
Assign quizzes to your students or employees.
Students log in from anywhere.
Scores are tallied and compiled for you.
You decide whether to let students see their own scores and quiz explanations.
Let GrammarBook.com take the hassle out of teaching English!
"Fun to test my skills!"
"The explanations really help … thanks!"
Your choice: Subscribe at the $29.95 or $99.95 level ($30 off - previously $129.95).
"I download the quizzes for my students who don't have computer access."
Subscribe today to receive hundreds of English usage quizzes not found anywhere else!
"Makes learning English FUN!"
---
Don't need all the quizzes at once?
You can now purchase the same quizzes individually for ONLY 99¢ each. Purchase yours here.
---
Get Yours Today!

Get Amazon's No. 1 Best-seller in Four Categories!
No. 1 in Grammar
No. 1 in Reading
No. 1 in Lesson Planning
No. 1 in Vocabulary

The Blue Book of Grammar
and Punctuation
by Jane Straus, Lester Kaufman, and Tom Stern

The Authority on English Grammar!
Eleventh Edition Now Available

Have You Ordered Your Copy Yet?

An indispensable tool for busy professionals, teachers, students, homeschool families, editors, writers, and proofreaders.

Available in print AND as an e-Book! Over 2,000 copies are purchased every month!

Hundreds of Grammar, Punctuation, Capitalization, and Usage Rules
Real-World Examples
Spelling / Vocabulary / Confusing Words
Quizzes with Answers

The publisher is extending its discount offer until August 31, 2015! If you live in the United States or Canada, order the new edition of The Blue Book through Wiley.com and get 30 percent off and FREE shipping. Simply go to bit.ly/1996hkA and use discount code E9X4AYY.

For those of you who live outside the U.S. and Canada, although the publisher is not able to offer free shipping, you will get 35 percent off to help offset your shipping costs. Simply go to bit.ly/1996hkA and use discount code E9X4A.
---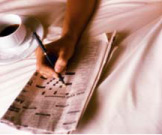 Wordplay

A bass was painted on the head of the bass drum.

When shot at, the dove dove into the bushes.

I did not object to the object.
---
Pop Quiz Answers

1. "Iran is as great a threat as Israel has ever faced."
2. "It's an extremely politicized department."
3. "Every one of our allies in the region is up in arms."
4. "It's a good opportunity for whoever becomes the nominee."
5. "This could spur other people to do the same thing."


---
Learn all about who and whom, affect and effect, subjects and verbs, adjectives and adverbs, commas, semicolons, quotation marks, and much more by just sitting back and enjoying these easy-to-follow lessons. Tell your colleagues (and boss), children, teachers, and friends. Click here to watch.