Welcome to your GrammarBook.com e-newsletter.
"I've purchased several grammar books and The Blue Book of Grammar and Punctuation is the easiest to
understand—straight to the point with clear definitions. It's the only book that's kept my attention."
—Patricia C.





"Thanks for all you do to help improve our speaking and writing
abilities—even mine! I do take your suggestions and reasons to heart."
—Sej H.





"I really enjoy the GrammarBook.com e-newsletter. It is a readable, informative, and entertaining forum that often elicits a smile in the middle of a busy day."
—Clark W.

Thank You For Your Feedback!

A big thank-you to all our readers who took the time to send us their thoughts in response to our request for feedback. Most of you said you enjoyed and learned from the grammar articles, quizzes, and Wordplays, and wouldn't change a thing. Some readers asked for more basic grammar and punctuation lessons. We heard you; we've provided one such lesson today, and will continue to do so periodically.

Thanks again, and feel free to provide feedback any time. We take your suggestions seriously.

Irregular Verbs Can Be a Regular Pain

English verbs are either regular or irregular. We call a verb regular when we add ed (wanted, looked) or sometimes just d (created, loved) to form what are called the simple past tense and the past participle (see third and fourth paragraphs below). A regular verb's simple past tense and past participle are always identical.

Not so with irregular verbs. They form the simple past tense and the past participle in any number of unpredictable ways. Some irregular verbs, like let, shut, and spread, never change, whether present or past. Others, like feel and teach, become modified versions of themselves (felt, taught) to form both the past tense and the past participle. Still others, like break and sing, change to form the past tense (broke, sang) and change again to form the past participle (broken, sung). And then there are a few really weird ones, like go: its past participle (gone) is recognizable enough, but its simple past tense is a strange new word (went).

Let's get back to the irregular verb break. The simple past tense is broke, which we use in sentences like I broke your dish. We use the past participle, broken, to form compound verbs in sentences like I have broken your dish. The compound verb have broken is so called because we've added a helping verb (have) to the main verb's past participle (broken). Be careful never to add a helping verb to the simple past form of an irregular verb—I have broke your dish is an embarrassing confession in more ways than one.

The past participle of an irregular verb can also function as an adjective: a broken dish. But the simple past form, if it differs from the participle, cannot function as an adjective: a broke dish is substandard English.

There are far fewer irregular verbs than regular ones, but we use them all the time. "The ten commonest verbs in English (be, have, do, say, make, go, take, come, see, and get) are all irregular," notes Steven Pinker, an American experimental psychologist and linguist, "and about 70% of the time we use a verb, it is an irregular verb." Pinker acknowledges 180 irregular English verbs, but the website Englishpage.com has an Extended Irregular Verb Dictionary which contains over 470 irregular verbs, including rare ones such as bestrew, enwind, and hagride.

Proper use of irregular verbs requires old-fashioned memorization—there are no secret formulas or shortcuts. This is why these words can create havoc for conscientious speakers of English. See how you do on the irregular verb quiz below—and please, no peeking at the answers till you complete the last question.

Irregular Verb Pop Quiz

1. He should have definitely ___ it before sunset.

A) did
B) done
C) have did
D) have done

2. This year has not necessarily ___ the way they hoped it would.

A) gone
B) went
C) going
D) go

3. He hopes he has finally ___ his last grammar test.

A) took
B) tooken
C) take
D) taken

4. The dry soil has ___ up every last raindrop.

A) drank
B) drunk
C) A and B are both correct.

5. She claims she ___ it happen before it occurred.

A) sees
B) seen
C) saw
D) had saw

6. It looks as if Tanya has actually ___ to visit Reggie.

A) come
B) came
C) coming

7. The Smiths were all ___ by a loud crashing noise.

A) awakened
B) awoken
C) A and B are both correct.

8. It had just ___ to snow when the plane took off.

A) began
B) begin
C) beginning
D) begun

9. Don't they know I'm already ___ up?

A) shook
B) shaken
C) shooken
D) shaked

10. The wind has ___ like this for a week now.

A) blow
B) blowed
C) blown
D) blew

ANSWERS

1: B) done

2: A) gone

3: D) taken

4: B) drunk

5: C) saw

6: A) come

7: C) awakened and awoken are both correct

8: D) begun

9: B) shaken

10: C) blown

Because of the e-newsletter's large readership, please submit your English usage questions through GrammarBook.com's "Grammar Blog."
---
Free BONUS Quiz for You!
[[firstname]], because you are a subscriber to the newsletter, you get access to one of the Subscription Members-Only Quizzes. Click here to take a Finding Nouns, Verbs, and Subjects Quiz and get your scores and explanations instantly!
---
More Good News for Quiz Subscribers

We are pleased to announce that we have added even more quizzes to help you challenge yourself, your students, and your staff. We added quizzes to existing categories and created some new categories such as "Confusing Verbs," "Subjunctive Mood," "Comprise," "Sit vs. Set vs. Sat," and "Spelling."

We reviewed and strengthened every quiz on our website to ensure consistency with the rules and guidelines contained in our eleventh edition of The Blue Book of Grammar and Punctuation.

If you think you have found an error in a quiz, please email us at help@grammarbook.com.

---

"So convenient … hundreds of quizzes in one click."

[[firstname]], Subscribe to receive hundreds of English usage quizzes not found anywhere else!

Take the quizzes online or download and copy them.
Get scored instantly.
Find explanations for every quiz answer.
Reproduce the quizzes to your heart's content.
EASY to use.
No software to download.
No setup time.
A real person to help you if you have any questions!
Instructors and Employers: we make your life easier!
Assign quizzes to your students or employees.
Students log in from anywhere.
Scores are tallied and compiled for you.
You decide whether to let students see their own scores and quiz explanations.
Let GrammarBook.com take the hassle out of teaching English!
"Fun to test my skills!"
"The explanations really help … thanks!"
Your choice: Subscribe at the $29.95 or $99.95 level ($30 off - previously $129.95).
"I download the quizzes for my students who don't have computer access."
Subscribe today to receive hundreds of English usage quizzes not found anywhere else!
"Makes learning English FUN!"
---
Don't need all the quizzes at once?
You can now purchase the same quizzes individually for ONLY 99¢ each. Purchase yours here.
---
Get Yours Today!

Get Amazon's No. 1 Best-seller in Four Categories!
No. 1 in Grammar
No. 1 in Reading
No. 1 in Lesson Planning
No. 1 in Vocabulary

The Blue Book of Grammar
and Punctuation
by Jane Straus, Lester Kaufman, and Tom Stern

The Authority on English Grammar!
Eleventh Edition Now Available

Have You Ordered Your Copy Yet?

An indispensable tool for busy professionals, teachers, students, homeschool families, editors, writers, and proofreaders.

Available in print AND as an e-Book! Over 2,000 copies are purchased every month!

Hundreds of Grammar, Punctuation, Capitalization, and Usage Rules
Real-World Examples
Spelling / Vocabulary / Confusing Words
Quizzes with Answers

The publisher is extending its discount offer until August 31, 2015! If you live in the United States or Canada, order the new edition of The Blue Book through Wiley.com and get 30 percent off and FREE shipping. Simply go to bit.ly/1996hkA and use discount code E9X4AYY.

For those of you who live outside the U.S. and Canada, although the publisher is not able to offer free shipping, you will get 35 percent off to help offset your shipping costs. Simply go to bit.ly/1996hkA and use discount code E9X4A.
---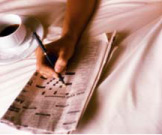 Wordplay

Let's face it—English is a crazy language. There is no egg in eggplant, no ham in hamburger. There's neither apple nor pine in pineapple. English muffins weren't invented in England, nor were french fries invented in France. Sweetmeats are candies, while sweetbreads, which aren't sweet, are meat. We take English for granted. But if we explore its paradoxes, we find that quicksand can work slowly, boxing rings are square, and a guinea pig is neither from Guinea nor is it a pig.

And why is it that writers write but fingers don't fing, grocers don't groce and hammers don't ham? If the plural of tooth is teeth, why isn't beeth the plural of booth? One goose, two geese. So one moose, two meese? Doesn't it seem crazy that you can make amends but not one amend? If you have a bunch of odds and ends and get rid of all but one of them, what do you call it?

If teachers have taught, why haven't preachers praught? If a vegetarian eats vegetables, what does a humanitarian eat? Sometimes it seems as if all English speakers should be committed to an asylum for the verbally insane. In what language do people recite at a play and play at a recital? Ship by truck and send cargo by ship? Have noses that run and feet that smell?

How can a slim chance and a fat chance be the same, while a wise man and a wise guy are opposites? You have to marvel at the unique lunacy of a language in which your house can burn up as it burns down, in which you fill in a form by filling it out, and in which an alarm goes off by going on.

English was invented by people, not computers, and it reflects the creativity of the human race, which, of course, is not a race at all. That is why, when the stars are out they are visible, but when the lights are out they are invisible.
---
Learn all about who and whom, affect and effect, subjects and verbs, adjectives and adverbs, commas, semicolons, quotation marks, and much more by just sitting back and enjoying these easy-to-follow lessons. Tell your colleagues (and boss), children, teachers, and friends. Click here to watch.