Welcome to your GrammarBook.com e-newsletter.
We Want to Hear from
You …

Are our newsletters meeting your needs and expectations? Please email us your comments and suggestions. No need for formality—just a word, a phrase, a sentence may suffice, or feel free to make your message as long as you like. We will read it.

What would you or do you find helpful? Are our posts too technical? Not technical enough? Do you want more focus on beginning, intermediate, or advanced grammar? More discussion about spoken vs. written English? Do you like our writing tips? Do you like our occasional book reviews? Do you like the tone or approach we take in our posts? What topic or topics do you want to read about?

Please let us know. Send your comments and suggestions by replying to the newsletter. We'll all be the better for it.

The Lowdown on Different Than

Those who care about language sometimes discover they've been misled. Teachers, parents, or other trusted authority figures have been known to proclaim as rules what turn out to be myths, opinions, or whims about English usage.

In recent years we have debunked some of these baseless "rules," and gotten a lot of heat from frustrated readers. Who can blame them?

Yet today we're at it again, taking on another long-standing commandment: Always say different from because different than is incorrect. Upon further review this rule cannot be substantiated.

It has some impressive defenders, though: "In educated American usage, one thing is different from another, not different than another" (Claire Kehrwald Cook, Line by Line). "Comparative adjectives take than … Different takes from" (John B. Bremner, Words on Words).

Most writers prefer different from over different than when the phrase precedes a noun or pronoun: Dogs are different from cats. But different from does not always work preceding a clause. Consider this sentence: It is no different for men than it is for women. Using different than results in a clear, straightforward sentence. The supposedly grammatical alternative would be bloated and clumsy: It is no different for men from the way it is for women.

In Bryson's Dictionary of Troublesome Words Bill Bryson cites this sentence: How different things appear in Washington than in London. If we changed the sentence to How different things appear in Washington from how they appear in London, Bryson states, "all it gives you is more words, not better grammar."

"The idea that there is anything wrong with different than is a superstition," says Roy H. Copperud in his Dictionary of Usage and Style. Bergen and Cornelia Evans's Dictionary of Contemporary American Usage concurs: "No one has any grounds for condemning others who would rather say different than, since this construction is used by some of the most sensitive writers of English and is in keeping with the fundamental structure of the language."

Does this mean you should now write different than every chance you get? We certainly wouldn't. There may be nothing grammatically wrong with different than, but it remains polarizing. A is different than B comes across as sloppy to a lot of literate readers. If you can replace different than with different from without having to rewrite the rest of the sentence, we recommend doing so.

Because of the e-newsletter's large readership, please submit your English usage questions through GrammarBook.com's "Grammar Blog."
---
Free BONUS Quiz for You!
[[firstname]], because you are a subscriber to the newsletter, you get access to one of the Subscription Members-Only Quizzes. Click here to take a Prepositions Quiz and get your scores and explanations instantly!
---
More Good News for Quiz Subscribers

We are pleased to announce that we have added even more quizzes to help you challenge yourself, your students, and your staff. We added quizzes to existing categories and created some new categories such as "Confusing Verbs," "Subjunctive Mood," "Comprise," "Sit vs. Set vs. Sat," and "Spelling."

We reviewed and strengthened every quiz on our website to ensure consistency with our rules and guidelines contained in the eleventh edition of The Blue Book of Grammar and Punctuation.

If you think you have found an error in a quiz, please email us at help@grammarbook.com.

---

"So convenient … hundreds of quizzes in one click."

[[firstname]], Subscribe to receive hundreds of English usage quizzes not found anywhere else!

Take the quizzes online or download and copy them.
Get scored instantly.
Find explanations for every quiz answer.
Reproduce the quizzes to your heart's content.
EASY to use.
No software to download.
No setup time.
A real person to help you if you have any questions!
Instructors and Employers: we make your life easier!
Assign quizzes to your students or employees.
Students log in from anywhere.
Scores are tallied and compiled for you.
You decide whether to let students see their own scores and quiz explanations.
Let GrammarBook.com take the hassle out of teaching English!
"Fun to test my skills!"
"The explanations really help … thanks!"
Your choice: Subscribe at the $29.95 or $99.95 level ($30 off - previously $129.95).
"I download the quizzes for my students who don't have computer access."
Subscribe today to receive hundreds of English usage quizzes not found anywhere else!
"Makes learning English FUN!"
---
Don't need all the quizzes at once?
You can now purchase the same quizzes individually for ONLY 99¢ each. Purchase yours here.
---
Get Yours Today!

Get Amazon's No. 1 Best-seller in Four Categories!
No. 1 in Grammar
No. 1 in Reading
No. 1 in Lesson Planning
No. 1 in Vocabulary

The Blue Book of Grammar
and Punctuation
by Jane Straus, Lester Kaufman, and Tom Stern

The Authority on English Grammar!
Eleventh Edition Now Available

Have You Ordered Your Copy Yet?

An indispensable tool for busy professionals, teachers, students, homeschool families, editors, writers, and proofreaders.

Available in print AND as an e-Book! Over 2,000 copies are purchased every month!

Hundreds of Grammar, Punctuation, Capitalization, and Usage Rules
Real-World Examples
Spelling / Vocabulary / Confusing Words
Quizzes with Answers

The publisher is extending its discount offer until August 31, 2015! If you live in the United States or Canada, order the new edition of The Blue Book through Wiley.com and get 30 percent off and FREE shipping. Simply go to bit.ly/1996hkA and use discount code E9X4AYY.

For those of you who live outside the U.S. and Canada, although the publisher is not able to offer free shipping, you will get 35 percent off to help offset your shipping costs. Simply go to bit.ly/1996hkA and use discount code E9X4A.
---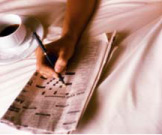 Wordplay

Interesting Places to Visit

I have been in many places, but I've never been in Cahoots. Apparently, you can't go alone. You have to be in Cahoots with someone.

I've also never been in Cognito. I hear no one recognizes you there.

I have, however, been in Sane. There's no airport; you have to be driven there. I have made several trips there, thanks to my friends, family, and work.

I would like to go to Conclusions, but you have to jump, and I've never been good at that.

I have also been in Doubt. That is a sad place to go, and I try not to visit there too often.

I've been in Flexible, but only when it was very important to stand firm.

Sometimes I'm in Capable, and I go there more and more often nowadays.

One of my favorite places to be is in Suspense! It really gets the adrenaline flowing.

And, sometimes I think I am in Vincible but life shows me I am not.

People keep telling me I'm in Denial but I'm positive I've never been there before!
---
Learn all about who and whom, affect and effect, subjects and verbs, adjectives and adverbs, commas, semicolons, quotation marks, and much more by just sitting back and enjoying these easy-to-follow lessons. Tell your colleagues (and boss), children, teachers, and friends. Click here to watch.