Welcome to your GrammarBook.com e-newsletter.
"I purchased The Blue Book of Grammar and Punctuation when I was teaching and loved it. It is my go-to resource."
—Kelly S.





"I am thrilled to have a resource like GrammarBook.com at my fingertips to share with my students. Thanks for such a wonderful tool."
—Chris M.





"Your weekly
e-newsletters have helped me be successful in my career."
—Michele E.

Evolution or …?

Today we'll home in on three examples of the English language's capriciousness.

Self-deprecating Few contemporary writers would hesitate to use self-deprecating to describe someone who is refreshingly humble. But the term's wide acceptance is yet another triumph of the slobs over the snobs.

Technically, the correct term is self-depreciating. Although deprecate and depreciate appear almost identical, these words have different roots, and different meanings as well. Traditionally, to deprecate is to disapprove of or denounce. To depreciate is to devalue or downgrade. Because the two words are easily confused, most dictionaries caved forty or fifty years ago and started listing them as synonymous.

Why did self-deprecating prevail when self-depreciating is the right choice? Possibly because deprecating sounds mysterious and swanky.

It's not as much fun to use depreciating, with its unwieldy extra syllable. It's a dreary word that evokes decline and obsolescence.

Momentarily Since the mid-seventeenth century, momentarily has meant "for a moment." But in the twentieth century, casual speakers and writers started using it to mean "in a moment." This johnny-come-lately meaning of momentarily has caught up with and maybe overtaken the traditional meaning.

There is quite a difference between for a moment and in a moment when you think about it. Most travelers are heartened when they hear "Passengers' baggage will arrive momentarily." But this announcement could be stressful news to traveling language sticklers—they might take it to mean that their arriving luggage will disappear after only a few seconds.

So why say something like Let's speak momentarily and risk being misinterpreted? The solution is to drop momentarily and instead say either Let's speak soon or Let's have a short talk.

Presently This word has changed meanings more than once since its arrival in the fourteenth century. At first it meant now. But today careful speakers and writers use it to mean "in the near future." Others use it in its original sense. The 2014 edition of Webster's New World lists both "in a little while; soon" and "at present; now: a usage still objected to by some."

We recommend that you avoid this fussy word. If you tell a houseful of ravenous guests, "We are serving dinner presently," many will think you mean right now and start elbowing their way to the front of the line.

Good alternative: "We are serving dinner soon."
Not so good alternative: "We are serving dinner momentarily."

Because of the e-newsletter's large readership, please submit your English usage questions through GrammarBook.com's "Grammar Blog."
---
Free BONUS Quiz for You!
[[firstname]], because you are a subscriber to the newsletter, you get access to one of the Subscription Members-Only Quizzes. Click here to take an Adjectives and Adverbs Quiz and get your scores and explanations instantly!
---
More Good News for Quiz Subscribers

We are pleased to announce that we have added even more quizzes to help you challenge yourself, your students, and your staff. We added quizzes to existing categories and created some new categories such as "Confusing Verbs," "Subjunctive Mood," "Comprise," and "Sit vs. Set vs. Sat."

We reviewed and strengthened every quiz on our website to ensure consistency with our rules and guidelines contained in the eleventh edition of The Blue Book of Grammar and Punctuation.

If you think you have found an error in a quiz, please email us at help@grammarbook.com.

---

"So convenient … hundreds of quizzes in one click."

[[firstname]], Subscribe to receive hundreds of English usage quizzes not found anywhere else!

Take the quizzes online or download and copy them.
Get scored instantly.
Find explanations for every quiz answer.
Reproduce the quizzes to your heart's content.
EASY to use.
No software to download.
No setup time.
A real person to help you if you have any questions!
Instructors and Employers: we make your life easier!
Assign quizzes to your students or employees.
Students log in from anywhere.
Scores are tallied and compiled for you.
You decide whether to let students see their own scores and quiz explanations.
Let GrammarBook.com take the hassle out of teaching English!
"Fun to test my skills!"
"The explanations really help … thanks!"
Your choice: Subscribe at the $29.95 or $99.95 level ($30 off - previously $129.95).
"I download the quizzes for my students who don't have computer access."
Subscribe today to receive hundreds of English usage quizzes not found anywhere else!
"Makes learning English FUN!"
---
Don't need all the quizzes at once?
You can now purchase the same quizzes individually for ONLY 99¢ each. Purchase yours here.
---
Get Yours Today!

Get Amazon's No. 1 Best-seller in Four Categories!
No. 1 in Grammar
No. 1 in Reading
No. 1 in Lesson Planning
No. 1 in Vocabulary

The Blue Book of Grammar
and Punctuation
by Jane Straus, Lester Kaufman, and Tom Stern

The Authority on English Grammar!
Eleventh Edition Now Available

Have You Ordered Your Copy Yet?

An indispensable tool for busy professionals, teachers, students, homeschool families, editors, writers, and proofreaders.

Available in print AND as an e-Book! Over 2,000 copies are purchased every month!

Hundreds of Grammar, Punctuation, Capitalization, and Usage Rules
Real-World Examples
Spelling / Vocabulary / Confusing Words
Quizzes with Answers

The publisher is extending its pre-publication discount offer until April 30, 2015! If you live in the United States or Canada, order the new edition of The Blue Book through Wiley.com and get 30 percent off and FREE shipping. Simply go to bit.ly/1996hkA and use discount code E9X4AYY.

For those of you who live outside the U.S. and Canada, although the publisher is not able to offer free shipping, you will get 35 percent off to help offset your shipping costs. Simply go to bit.ly/1996hkA and use discount code E9X4A.
---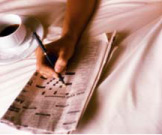 Wordplay

Santa's helpers are subordinate clauses.

A man's home is his castle, in a manor of speaking.

Dijon vu: the same mustard as before.
---
Learn all about who and whom, affect and effect, subjects and verbs, adjectives and adverbs, commas, semicolons, quotation marks, and much more by just sitting back and enjoying these easy-to-follow lessons. Tell your colleagues (and boss), children, teachers, and friends. Click here to watch.