Welcome to your GrammarBook.com e-newsletter.
"The Blue Book of Grammar and Punctuation makes grammar easy to understand."
—Leena B.





"Your grammar quizzes on GrammarBook.com are amazing for people who need a refresher on grammar and punctuation rules."
—Dana W.





"Your e-newsletter is an absolute eye-opener, and I enjoy reading every single one."
—Fran D.

That and Which: Rule or Guideline?

A sentence in our recent article on spelling ruffled a few readers. See if you can spot what caused the commotion: "The other errant site offered a quiz which claimed that 'inflammation of the membrane of the brain' is spelled 'meningitas.' "

Did you catch it? Our correspondents insisted "which" was wrong and should be replaced by "that." For those unfamiliar with the prevailing assumptions about that and which, here is an overview:

Consider the sentence It was just something that came over me. According to most sticklers, when a dependent clause (that came over me) does not require a comma to introduce it, the relative pronoun that is indicated, and which would be wrong. Such a clause is called restrictive (or essential or defining).

Now consider the sentence Joe ordered eggs and toast, which he always enjoyed. When a dependent clause (which he always enjoyed) requires a comma to introduce it, the relative pronoun which is necessary, and that would be wrong. Such a clause is called nonrestrictive (or nonessential or nondefining).

These guidelines caught the public's attention back in 1926, when H.W. Fowler's Dictionary of Modern English Usage, the bible of modern grammar, endorsed that for restrictive clauses and which for nonrestrictive clauses. Fowler's suggestion has become law, even though Fowler himself was never strident about his theory, writing "it would be idle to pretend that it is the practice either of most or of the best writers."

This is the background behind the scolding we received for using a restrictive which. Nonetheless, we stand behind our sentence and would not change it.

The language scholar Geoffrey Pullum has written, "What is actually true about expert users of English … is that they use both that and which in integrated relative clauses, in proportions that aren't very far away from being 50/50." We could start with the King James Bible: "Render therefore unto Caesar the things which are Caesar's; and unto God the things that are God's." Jane Austen used the restrictive which, as did Macaulay, Dickens, Melville, Conrad, Lewis Carroll, and other literary luminaries right up to the present.

William Faulkner, awarded the 1949 Nobel Prize in Literature, was a champion of the restrictive which. As an experiment we opened Faulkner's 1932 novel Light in August to a random page and immediately found "He just stared at her, at the face which he had never seen before." President Franklin D. Roosevelt's stirring Pearl Harbor speech before Congress began "Yesterday, December 7, 1941—a date which will live in infamy …"

Getting back to the offending sentence that started this flap, we'll let this passage from Wilson Follett's Modern American Usage explain our word choice: "[There are] many instances where being forced to use that leads to an intolerable repetition of sounds." We wrote "a quiz which claimed that" simply because we cringed at the look and sound of "a quiz that claimed that."

Those who swear by Fowler's rule have a formidable array of language scholars aligned against them. Here is a small sample …

"You can use which or that to introduce a restrictive clause—the grounds for your choice should be stylistic."— Merriam-Webster's Dictionary of English Usage

"This use of which with restrictive clauses is very common, even in edited prose. Moreover, in some situations which is preferable to that." —American Heritage Usage Panel

"No one could plausibly insist that which as a restrictive relative pronoun is indefensible or incorrect." —Wilson Follett, Modern American Usage

"This is a canonical case of a self-appointed authority inventing a grammatical theory, observing that elite writers routinely violate the theory, and concluding not that the theory is wrong or incomplete, but that the writers are in error." —Mark Liberman, American linguist

"Follow the Fowler rule if you want to; it's up to you. But don't tell me that it's crucial or that the best writers respect it. It's a time-wasting
early-20th-century fetish, a bogeyman rule undeserving of the attention of intelligent grownups." —Geoffrey K. Pullum, linguistics professor, University of Edinburgh

Because of the e-newsletter's large readership, please submit your English usage questions through GrammarBook.com's "Grammar Blog."
---
Free BONUS Quiz for You!
[[firstname]], because you are a subscriber to the newsletter, you get access to one of the Subscription Members-Only Quizzes. Click here to take a Who, Whom, That, Which Quiz and get your scores and explanations instantly!

We feel that maintaining the distinction between that and which in essential and nonessential phrases and clauses is useful, even though the principle is sometimes disregarded by experienced writers. We observe this distinction in the bonus quiz and other quizzes on our website.
---
More Good News for Quiz Subscribers

We are pleased to announce that we have added even more quizzes to help you challenge yourself, your students, and your staff. We added quizzes to existing categories and created some new categories such as "Confusing Verbs," "Subjunctive Mood," "Comprise," and "Sit vs. Set vs. Sat."

We reviewed and strengthened every quiz on our website to ensure consistency with our rules and guidelines contained in the eleventh edition of The Blue Book of Grammar and Punctuation.

If you think you have found an error in a quiz, please email us at help@grammarbook.com.

---

"So convenient … hundreds of quizzes in one click."

[[firstname]], Subscribe to receive hundreds of English usage quizzes not found anywhere else!

Take the quizzes online or download and copy them.
Get scored instantly.
Find explanations for every quiz answer.
Reproduce the quizzes to your heart's content.
EASY to use.
No software to download.
No setup time.
A real person to help you if you have any questions!
Instructors and Employers: we make your life easier!
Assign quizzes to your students or employees.
Students log in from anywhere.
Scores are tallied and compiled for you.
You decide whether to let students see their own scores and quiz explanations.
Let GrammarBook.com take the hassle out of teaching English!
"Fun to test my skills!"
"The explanations really help … thanks!"
Your choice: Subscribe at the $29.95 or $99.95 level ($30 off - previously $129.95).
"I download the quizzes for my students who don't have computer access."
Subscribe today to receive hundreds of English usage quizzes not found anywhere else!
"Makes learning English FUN!"
---
Don't need all the quizzes at once?
You can now purchase the same quizzes individually for ONLY 99¢ each. Purchase yours here.
---
Get Yours Today!

Get Amazon's No. 1 Best-seller in Four Categories!
No. 1 in Grammar
No. 1 in Reading
No. 1 in Lesson Planning
No. 1 in Vocabulary

The Blue Book of Grammar
and Punctuation
by Jane Straus, Lester Kaufman, and Tom Stern

The Authority on English Grammar!
Eleventh Edition Now Available

Have You Ordered Your Copy Yet?

An indispensable tool for busy professionals, teachers, students, homeschool families, editors, writers, and proofreaders.

Available in print AND as an e-Book! Over 2,000 copies are purchased every month!

Hundreds of Grammar, Punctuation, Capitalization, and Usage Rules
Real-World Examples
Spelling / Vocabulary / Confusing Words
Quizzes with Answers

The publisher is extending its pre-publication discount offer until April 30, 2015! If you live in the United States or Canada, order the new edition of The Blue Book through Wiley.com and get 30 percent off and FREE shipping. Simply go to bit.ly/1996hkA and use discount code E9X4AYY.

For those of you who live outside the U.S. and Canada, although the publisher is not able to offer free shipping, you will get 35 percent off to help offset your shipping costs. Simply go to bit.ly/1996hkA and use discount code E9X4A.
---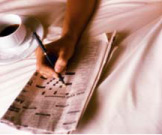 Wordplay

Why is abbreviated such a long word?

Why is it that doctors and attorneys call what they do practice?

Why is the man who invests all your money called a broker?
---
Learn all about who and whom, affect and effect, subjects and verbs, adjectives and adverbs, commas, semicolons, quotation marks, and much more by just sitting back and enjoying these easy-to-follow lessons. Tell your colleagues (and boss), children, teachers, and friends. Click here to watch.