Welcome to your GrammarBook.com e-newsletter.
The Blue Book of Grammar and Punctuation sheds light on many difficult areas of language. It has helped make me a better professor.
—John E.





I love GrammarBook.com. It is simple and straight to the point, and it has helped me become aware of things I didn't know.
—Isaac S.





My heartfelt gratitude for all the grammar tips that I have received from you. They have been remarkably helpful to me.
—Ben U.

Pleonasms Are a Bit Much

The term pleonasm comes from pleonazein, a Greek word that means "more than enough." When you use a pleonasm, you are repeating yourself.

The jolly man was happy is a pleonasm: The man was happy says the same thing without the unnecessary addition of "jolly."

Serious writers want to make their point with a minimum of fuss and clutter. Nothing says fuss and clutter like an ill-advised pleonasm, which can come across as long-winded, pompous, ignorant, laughable, or any combination thereof.

Some pleonasms are obvious (true fact, free gift), others are less noticeable (pick and choose, young boy). They hide in our writing, then jump out and jeer at us for not catching them when we had the chance.

Here is a selection of pleonasms from a variety of sources:

PIN number PIN is an acronym for "personal identification number." So a PIN number is a personal identification number number.

"Woman arrested after verbal argument" The creator of this headline forgot that all arguments are verbal.

"GED graduation begins with unexpected surprise" Is it a surprise if it's expected?

"Tips from a self-confessed project management nerd" Too bad the author of this post wasn't also a language nerd: self-confessed is a classic pleonasm.

"I'm trying to decide whether or not someone's worth dating" Delete "or not" and you've said the same thing.

"So blind he can't see" This is a line from "Drink Up and Go Home," a country song from the fifties. It's supposed to be poignant, but the pleonasm is a distraction.

"I'm told you are a very clever genius" Attributed to Samuel Goldwyn, American movie mogul (1879-1974).

Some pleonasms are used intentionally, for emphasis. An exasperated mother tells her unruly child, "Never, ever do that again!" Few parents would second-guess that "ever." A jilted lover writes to his sweetheart that she has left him "utterly devastated." The poor man is swept up in the trauma and drama of rejection. Who would be so peevish as to inform him that, technically, "devastated" by itself gets the point across?

In A Dictionary of Contemporary American Usage Cornelia and Bergen Evans defend purposeful pleonasms: "A man who never said an unnecessary word would say very little during a long life and would not be pleasant company … In writing, as in conversation, an economical use of words is not always what we want."

However, we think the Evanses would agree that a mindless redundancy is not ever what we want.

Because of the e-newsletter's large readership, please submit your English usage questions through GrammarBook.com's "Grammar Blog."
---
Pop Quiz
The sentences below contain pleonasms. Which words or phrases could be removed with no change in meaning? (Example: the word true in true fact is superfluous.) Our answers are below.

1. Too late the soldiers realized that they were surrounded on all sides.

2. Randy wore a big smile on his face.

3. When we saw the final results, we were all in shock.

4. We were given a grand tour of the capitol building.

5. Rachelle has been appointed to the post of director of information.
---
Free BONUS Quiz for You!
[[firstname]], because you are a subscriber to the newsletter, you get access to one of the Subscription Members-Only Quizzes. Click here to take a Confusing Words and Homonyms Quiz and get your scores and explanations instantly!
Follow @GrammarBook on Twitter

GrammarBook.com is on Twitter! Follow @GrammarBook for weekly grammar tips, news, and information!
More Good News for Quiz Subscribers

We are pleased to announce that we have added even more quizzes to help you challenge yourself, your students, and your staff. We added quizzes to existing categories and created some new categories such as "Confusing Verbs," "Subjunctive Mood," "Comprise," "Sit vs. Set vs. Sat," and "Spelling."

We reviewed and strengthened every quiz on our website to ensure consistency with the rules and guidelines contained in our eleventh edition of The Blue Book of Grammar and Punctuation.

If you think you have found an error in a quiz, please email us at help@grammarbook.com.

---

"So convenient … hundreds of quizzes in one click."

[[firstname]], Subscribe to receive hundreds of English usage quizzes not found anywhere else!

Take the quizzes online or download and copy them.
Get scored instantly.
Find explanations for every quiz answer.
Reproduce the quizzes to your heart's content.
EASY to use.
No software to download.
No setup time.
A real person to help you if you have any questions!
Instructors and Employers: we make your life easier!
Assign quizzes to your students or employees.
Students log in from anywhere.
Scores are tallied and compiled for you.
You decide whether to let students see their own scores and quiz explanations.
Let GrammarBook.com take the hassle out of teaching English!
"Fun to test my skills!"
"The explanations really help … thanks!"
Your choice: Subscribe at the $29.95 or $99.95 level ($30 off - previously $129.95).
"I download the quizzes for my students who don't have computer access."
Subscribe today to receive hundreds of English usage quizzes not found anywhere else!
"Makes learning English FUN!"
---
Don't need all the quizzes at once?
You can now purchase the same quizzes individually for ONLY 99¢ each. Purchase yours here.
---
Get Yours Today!

Get Amazon's No. 1 Best-seller in Four Categories!
No. 1 in Grammar
No. 1 in Reading
No. 1 in Lesson Planning
No. 1 in Vocabulary

The Blue Book of Grammar
and Punctuation
by Jane Straus, Lester Kaufman, and Tom Stern

The Authority on English Grammar!
Eleventh Edition Now Available

Have You Ordered Your Copy Yet?

An indispensable tool for busy professionals, teachers, students, homeschool families, editors, writers, and proofreaders.

Available in print AND as an e-Book! Over 2,000 copies are purchased every month!

Hundreds of Grammar, Punctuation, Capitalization, and Usage Rules
Real-World Examples
Spelling / Vocabulary / Confusing Words
Quizzes with Answers

If you live in the United States or Canada, order The Blue Book through Wiley.com and get 30 percent off and FREE shipping! Simply go to bit.ly/1996hkA and use discount code E9X4AYY.*

For those of you who live outside the U.S. and Canada, although the publisher is not able to offer free shipping, you will get 35 percent off to help offset your shipping costs. Simply go to bit.ly/1996hkA and use discount code E9X4A.*

*Offer expires December 31, 2016.
---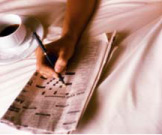 Wordplay

The guy who fell onto an upholstery machine is now fully recovered.

When a clock is hungry it goes back four seconds.

A bicycle can't stand alone; it is two tired.

---
Pop Quiz Answers

1. on all sides

2. on his face

3. final

4. building

5. to the post of


---
Learn all about who and whom, affect and effect, subjects and verbs, adjectives and adverbs, commas, semicolons, quotation marks, and much more by just sitting back and enjoying these easy-to-follow lessons. Tell your colleagues (and boss), children, teachers, and friends. Click here to watch.