Welcome to your GrammarBook.com E-Newsletter.
---
"I find your GrammarBook.com website helpful because it gives me a lot of information in the blink of an eye."
—Chiranjeev P.

"The Blue Book of Grammar and Punctuation is wonderful as an added resource. Thank you for making it available."
—Pat S.

"I truly love the information, rules, quizzes, and extras you have provided on your website."
—John D.

Revised and Expanded Blue Book Coming Next Month

The eleventh edition of The Blue Book of Grammar and Punctuation is set for a February debut. It has been six years since the tenth edition was published. So when the publisher, Jossey-Bass, requested another go-round, the team at GrammarBook.com was elated.

We trust that readers will find the new, extensively revised and expanded version in keeping with the author and founder Jane Straus's vision of a direct, concise, unfussy grammar book.

The Blue Book, which started life as a booklet for California state employees, has now sold around 200,000 copies. Over the years, we've seen the number of subscribers to our weekly blog grow from dozens to scores to hundreds; now, there are almost 40,000 of you worldwide.

As we have grown, we have heard from readers from every walk of life and all corners of the earth. Some of you have been outspoken about things we could be doing better—and we are listening. We can't forget an e-mail we received from a group of amateur linguists in England who felt we were too quick to label as "rules" what might better be termed conventions. One example of this distinction: although American writers and editors insist upon the placing of commas and periods inside quotation marks without exception, it nonetheless smacks of provincial pomposity to call this a "rule" of English when virtually every other English-speaking country ignores it.

So, with a nod to that shrewd e-mail, the new edition stresses the difference between rules on the one hand and conventions, customs, and tendencies on the other. For instance, there are ironclad rules for apostrophes—nowhere will you see the possessive of women written womens'. But other uses of the apostrophe are open for debate. Some write Learn your ABCs and others prefer your ABC's. Some write the 1990s and others swear by the 1990's.

The new Blue Book takes on English in all its often maddening complexity, acknowledging its quirks, gray areas, exceptions, limitations, and contradictions. We realize that people want straight answers, but with English, there sometimes aren't any, and we would be remiss in saying otherwise.


Order the new edition of The Blue Book through Wiley.com and get 30 percent off and FREE shipping. Simply go to bit.ly/1996hkA and use discount code E9X4AYY.

Because of the E-Newsletter's large readership, please submit your English usage questions through GrammarBook.com's "Grammar Blog."
---
Free BONUS Quiz For You!
[[firstname]], because you are a subscriber to the newsletter, you get access to one of the Subscription Members-Only Quizzes. Click here to take a Capitalization Quiz and get your scores and explanations instantly!
---

"So convenient...hundreds of quizzes in one click."

[[firstname]], Subscribe to receive hundreds of English usage quizzes not found anywhere else!

Take the quizzes online or download and copy them.
Get scored instantly.
Find explanations for every quiz answer.
Reproduce the quizzes to your heart's content.
EASY to use.
No software to download.
No setup time.
A real person to help you if you have any questions!
"Fun to test my skills!" "The explanations really help...thanks!"
Your choice: Subscribe at the $29.95 or $99.95 level ($30 off - regularly $129.95).
"I download the quizzes for my students who don't have computer access."
Subscribe today to receive hundreds of English usage quizzes not found anywhere else!
"Makes learning English FUN!"
---
Don't need all the quizzes at once?
You can now purchase the same quizzes individually for ONLY 99¢ each. Purchase yours here.
---
Get Yours Today!

Get Amazon's No. 1 Best-seller in Four Categories!
No. 1 in Grammar
No. 1 in Reading
No. 1 in Lesson Planning
No. 1 in Vocabulary

The Blue Book of Grammar
and Punctuation by Jane Straus, Lester Kaufman, and Tom Stern

The Authority on English Grammar!

Eleventh Edition Available February 10

Have You Ordered Your Copy Yet?

An indispensable tool for busy professionals, teachers, students, homeschool families, editors, writers, and proofreaders.

Available in print AND as an e-Book! Over 2,000 copies are purchased every month!

Hundreds of Grammar, Punctuation, Capitalization, and Usage Rules
Real-World Examples
Spelling / Vocabulary / Confusing Words
Quizzes with Answers
View the entire contents online
Discounts available for schools, bookstores, and multiple copies. Order Today!
---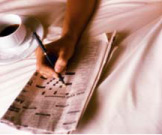 Wordplay
Reading while sunbathing makes you well red.

When two egotists meet, it's an I for an I.

What's the definition of a will? (It's a dead giveaway.)
---
Learn all about who and whom, affect and effect, subjects and verbs, adjectives and adverbs, commas, semicolons, quotation marks, and much more by just sitting back and enjoying these easy-to-follow lessons. Tell your colleagues (and boss), children, teachers, and friends. Click here to watch.