Welcome to your GrammarBook.com e-newsletter.
I have been using The Blue Book of Grammar and Punctuation for years now, and I absolutely love the advice contained within for its clarity, brevity, and style.
—Tom K.



I love GrammarBook.com. I find it extremely helpful as a quick reference in my work as an English teacher.
—Jenny A.



I love your
e-newsletter. It is very informative and has allowed me to learn English more effectively than I could have imagined.
—Ania W.

Worn-Out Words and Phrases: Resolving to Keep Writing Fresh in 2018

A new year once again draws near. For us grammarians and careful writers, the last 12 months have been another insightful and adventurous journey through the rules, styles, and techniques that help form concise and expressive American English.

Because each new year represents fresh resolve and beginnings, we thought we'd wrap up 2017 with new entries to our growing list of tired language we started this summer—Worn-Out Words and Phrases and Worn-Out Words and Phrases (Follow-up).

As loyalists to the written word, we aim to communicate with precision and originality. We also look to uphold the integrity of proper English usage. Language, like culture, passes through trends that invite new elements to shake up the norm. Some elements have the substance to last. Others become feeble and faded with use and warrant policing from those who can help put a stop to their loitering. Together, we can keep written English more vivid by weeding the stragglers out.

We welcome and appreciate feedback in helping to reinforce style and usage. The following entries into our worn-out words and phrases came from responses we received from our readers during the last few months.



Original
Problem Beyond Overuse
Alternatives in Careful Writing
on a daily/weekly basis (prep. phrase)
wordy
daily, weekly
going/moving forward
(adv. phrase)
inaccurate idiom meaning in continuance
in the future, from here, from now on
most importantly
(adv. phrase)
incorrect usage as adverb
most important (adj), above all
I feel like (verb clause)
subjective insertion before a statement
(e.g., I feel like the book is too long)
(strike as unnecessary)
bad optics
(noun phrase)
"buzz" phrase pertaining to the public's view of something through the media
bad perception, bad impression
ubiquitous (adj)
big-word-itis (a clinical condition)
all over, all around, everywhere
proactive (adj)
often redundant modification of an action in progress (e.g. proactively seeking)
(strike as unnecessary)
just (adv)
intrusive insertion of thought
(e.g., Why don't we just go tomorrow?)
(strike as unnecessary)
right? (interrogative)
highly catch-phrase in nature (meaning: Isn't that true/correct? Isn't that so?)
(strike as unnecessary)



As always, we acknowledge some of these may remain common in speech, where they often reinforce comfort and a connection to what's current. They also maintain a conversation's natural flow, which doesn't always provide the pauses for reflection and selection that writing affords.

On that note, let's resolve to continue polishing English to a shine in 2018. By wiping away words and phrases that dull what should be vibrant writing, we can make the language an even brighter way to persuade, inform, and inspire.


Because of the e-newsletter's large readership, please submit your comments or questions regarding today's (or any past) article through GrammarBook.com's Grammar Blog
---
Happy Holidays!
All of us at GrammarBook.com wish all of you and your families a happy holiday season. We will take a two-week break before resuming our weekly newsletters on January 10, 2018. We sincerely hope you have learned, benefited, and enjoyed our grammar tips this year. As always, we certainly enjoyed bringing them to you.
---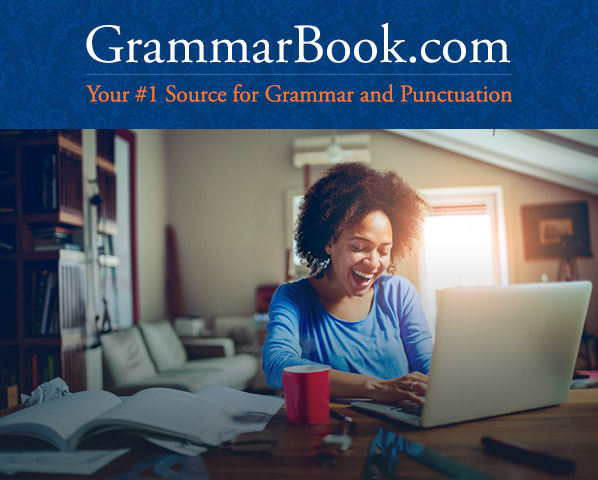 Updated Newsletter Design—Same Great Features with a New Look!
We are excited to announce that we have redesigned our e-newsletter for 2018. This will be the first change to our weekly newsletter in many years. This revision will be more compatible with handheld devices and an improvement for our desktop users as well.

The new look will debut with our first newsletter of the new year—on January 10, 2018.


---
Free BONUS Quiz for You!

[[firstname]], because you are a subscriber to the newsletter, you get access to one of the Subscribers-Only Quizzes. Click here to take a Confusing Words and Homonyms Quiz and get your scores and explanations instantly!
---

"GrammarBook's subscription quizzes opened a new door for me, a way to see exactly who is doing the work and who isn't, and it is very convenient for the students."
"So convenient … hundreds of quizzes in one click."

[[firstname]], Subscribe to receive hundreds of English usage quizzes not found anywhere else!

Take the quizzes online or download and copy them.
Get scored instantly.
Find explanations for every quiz answer.
Reproduce the quizzes to your heart's content.
EASY to use.
No software to download.
No setup time.
A real person to help you if you have any questions!
Instructors and Employers: we make your life easier!
Assign quizzes to your students or employees.
Students log in from anywhere.
Scores are tallied and compiled for you.
You decide whether to let students see their own scores and quiz explanations.
Let GrammarBook.com take the hassle out of teaching English!
"Fun to test my skills!"
"The explanations really help … thanks!"
Your choice: Subscribe at the $29.95 or $99.95 level ($30 off - previously $129.95).
"I download the quizzes for my students who don't have computer access."
Subscribe today to receive hundreds of English usage quizzes not found anywhere else!
"Makes learning English FUN!"
If you think you have found an error in a quiz, please email us at help@grammarbook.com

.
---
Don't need all the quizzes at once?
You can now purchase the same quizzes individually for ONLY 99¢ each. Purchase yours here.
---
Get Yours Today!

Get Amazon's No. 1 Best-seller in Four Categories!
No. 1 in Grammar
No. 1 in Reading
No. 1 in Lesson Planning
No. 1 in Vocabulary

The Blue Book of Grammar
and Punctuation
by Jane Straus, Lester Kaufman, and Tom Stern

The Authority on English Grammar!
Eleventh Edition Now Available

Have You Ordered Your Copy Yet?

An indispensable tool for busy professionals, teachers, students, homeschool families, editors, writers, and proofreaders.

Available in print AND as an e-Book! Over 2,000 copies are purchased every month!

Hundreds of Grammar, Punctuation, Capitalization, and Usage Rules
Real-World Examples
Spelling / Vocabulary / Confusing Words
Quizzes with Answers

The publisher of The Blue Book, Jossey-Bass, A Wiley brand, is offering a 35 percent discount for those of you who order the book through Wiley.com. Shipping and tax are not included. Simply go to bit.ly/1996hkA and use discount code E9X4A.

*Offer expires December 31, 2017.
---
Wordplay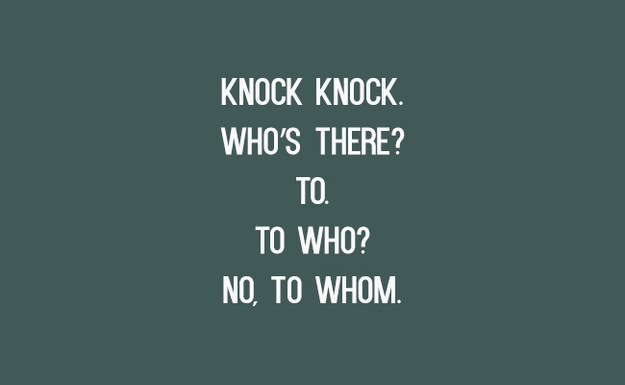 And that wraps up our late 2017 reviews of the proper usage of who, whom, whoever, and whomever!


---
Learn all about who and whom, affect and effect, subjects and verbs, adjectives and adverbs, commas, semicolons, quotation marks, and much more by just sitting back and enjoying these easy-to-follow lessons. Tell your colleagues (and boss), children, teachers, and friends. Click here to watch.