Welcome to your GrammarBook.com E-Newsletter.

---
"I love your newsletters! Thank you for a great opportunity to hone my writing skills with each one I receive."
—Sue M.

"Thank you so much for offering free quizzes online. They truly have helped me improve my English skills. You are helping students like me all around the world."
—Mara A.

"I introduced your Web site to my friends and they thought it was so cool."
—Lucy Z.

Don't Blur Fine Distinctions

If Helen offers André food, but André has just eaten, he will say, "Thank you, but I'm not really hungry." If Helen persists, André might say the same words in a different order: "Thank you, but I'm really not hungry," which lets her know in a civil way that she's not going to change his mind. When you think about it, there is a clear-cut difference between not really and really not that is well worth preserving.

Word order matters. Many people who mean to say Don't just stand there now say instead Just don't stand there. But the two statements mean different things. Don't just stand there means "Don't stand there doing nothing." Just don't stand there means "Don't stand there for any reason."

The meaning of just depends on its placement in a sentence, especially when it is accompanied by negative adverbs such as not or never, or negative verbs such as don't or wouldn't.

Careless speakers these days blur the distinction between phrases like not just and just not. Traditionally, not just means "not merely" or "not only," and just not means "simply not" or "definitely not." He's a trusted adviser, not just a friend means "He's both my adviser and my friend." Whereas He's a trusted adviser, just not a friend means something quite different: "I trust his advice, but he's no friend of mine."

Saying "just not" when we mean "not just" could lead to misunderstanding, embarrassment, even hurt feelings.

Due to the E-Newsletter's large readership, please submit your English usage questions through GrammarBook.com's "Grammar Blog."
---
Pop Quiz

Match each of the first four sentences with its closest paraphrase in sentences A-D.

1. I just wouldn't leave.
2. I wouldn't just leave.
3. I can't really concentrate in here.
4. I really can't concentrate in here.

A. This place interferes with my concentration.
B. This place makes concentrating impossible for me.
C. If I were to leave, I'd tell you first.
D. There is no possibility that I'd leave.


---
Free BONUS Quiz For You!
[[firstname]], because you are a subscriber to the newsletter, you get access to one of the Subscription Members-Only Quizzes. Click here to take a Commas Quiz and get your scores and explanations instantly!
---

"So convenient...hundreds of quizzes in one click."

[[firstname]], Subscribe to receive hundreds of English usage quizzes not found anywhere else!

Take the quizzes online or download and copy them.
Get scored instantly.
Find explanations for every quiz answer.
Reproduce the quizzes to your heart's content.
EASY to use.
No software to download.
No setup time.
A real person to help you if you have any questions!
"Fun to test my skills!" "The explanations really help...thanks!"
Your choice: Subscribe at the $29.95 or $99.95 level ($30 off - regularly $129.95).
"I download the quizzes for my students who don't have computer access."
Subscribe today to receive hundreds of English usage quizzes not found anywhere else!
"Makes learning English FUN!"
---
Don't need all the quizzes at once?
You can now purchase the same quizzes individually for ONLY 99¢ each. Purchase yours here.
---
Get Yours Today!

Get Amazon's #1 Bestseller in Four Categories!
#1 in Grammar
#1 in Reading
#1 in Lesson Planning
#1 in Vocabulary

The Blue Book of Grammar
and Punctuation by Jane Straus

An indispensable tool for busy professionals, teachers, students, homeschool families, editors, writers, and proofreaders.

Now available in print AND as an e-Book! Over 2000 copies are purchased every month!

Hundreds of Grammar, Punctuation, Capitalization, and Usage Rules
Real-World Examples
Spelling / Vocabulary / Confusing Words
Quizzes with Answers
View the entire contents online
Discounts available for schools, bookstores, and multiple copies. Order Today!
---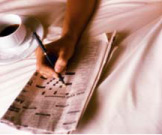 Wordplay

The Surprising Origins of Common Words
submitted by Tim Handorf of BestCollegesOnline.net

Bikini: Bikini lovers probably don't know the revealing two-piece swimsuit was named after a nuclear weapons test. It took place at Bikini Atoll in the Marshall Islands in 1946 after the conclusion of World War II. A few days later, fashion designer Jacques Heim introduced the bikini in an effort to take advantage of the publicity surrounding the word.
---
Pop Quiz Answers

1-D, 2-C, 3-A, 4-B
---
Learn all about who and whom, affect and effect, subjects and verbs, adjectives and adverbs, commas, semicolons, quotation marks, and much more by just sitting back and enjoying these easy-to-follow lessons. Tell your colleagues (and boss), children, teachers, and friends. Click here to watch.