Welcome to your GrammarBook.com e-newsletter.
GrammarBook.com is a gold mine that has improved my grammar enormously. I am very glad to have subscribed to the quizzes as they reinforce what is taught in the lessons.
—Chana S.



The Blue Book of Grammar and Punctuation sheds light on many difficult areas of the English language. It has helped me become a better professor.
—John E.



As a writer, I use the
e-newsletters and quizzes to refresh all those lessons I've either forgotten or ignored. They are very valuable tools.
—Randall K.

Hitting the Right Notes with Salutations and Closings

We live in an age of constant communication through multiple channels. Written correspondence can be as full of effort and care as a handwritten letter or as abridged and impulsive as a tweet or a text.

We also exist in a time when the line between professional vs. personal and formal vs. informal addressing of someone can blur. Current conversation channels have often changed how we write, but we are still human, and we appreciate being approached in the correct context of a relationship.

In written communication that identifies people in a dialogue, the salutation is the top line in which we greet or address the person to whom we're writing. The closing is the short line at the end that signals the message is finished.

How we open and close our correspondence shows we know to whom we're speaking and why. In today's world of content overload, we as careful writers want to ensure we engage each message and audience with language that fits.

Personal Correspondence

If we're addressing someone we know well, such as a friend, a family member, or an associate with whom we're close, a fail-safe salutation remains Dear (First Name). When writing email, we might also open with Hi, Hello, Greetings, or Good Morning, Good Afternoon, or Good Evening. Salutations in personal correspondence are followed with a comma (e.g., Dear Samantha,).

Closing personal written communication offers a wide range of phrasing and words depending on the type of relationship and the tone the writer wants to convey. Just a few include:



| | |
| --- | --- |
| Keep smiling | Till we meet again |
| Yours truly | Fondly |
| Love | Faithfully |
| With love | Sincerely yours |
| Many thanks | From |
| Your friend | Wishing you well |


The first word is typically the only one capitalized in a personal closing; however, we can choose to follow standard capitalization guidelines as a matter of preference. Hard-and-fast rules do not govern this area.

Also note that personal closings are followed by a comma (e.g., Your friend,).

Business Correspondence

A business relationship can be close or distant; in either case, the careful writer will remain aware of a professional context with proper boundaries and degrees of distance.

The salutation Dear (Name) can be used as the writer sees appropriate in business correspondence. The name can be the recipient's first name, full name, or last name preceded by Mr., Mrs., or Ms. If unsure of a recipient's gender, include the full name and exclude the prefix.

Salutations in business correspondence are followed by a colon (:) if formal or a comma if informal.

Examples

Dear Susan, (informal, closer relationship)
Dear Mr. Welsh: (formal, relationship not as close)
Dear Mrs. Martinez: (formal, you know she prefers "Mrs." over "Ms.")
Dear Ms. Martinez: (formal, she prefers "Ms." or you aren't sure of her preference)
Dear Macy Stapleton: (formal, relationship not close)
Dear Tyler Clancy: (formal, gender not known)

In any event, be diligent about spelling names correctly, including a person's use of hyphens and second capital letters (e.g., Sheila Perkins-McMurtry as opposed to Sheila Perkins Mcmurtry).

The salutation might also include the person's title. Include the last name if it is known or exclude it if it isn't. This context will almost always be formal.

Examples

Dear Chief Financial Officer Smith: (formal with title, name known)
Dear Marketing Manager, West Region: (formal with title, name not known)

In today's business communication, careful writers will avoid the once-acceptable salutations Dear Sir or Madam and To Whom It May Concern. Such openings suggest the sender did not take time to learn basic details about the recipient, which may not make the best first impression.

To close business correspondence, you can use one of several commonly accepted sign-offs as you believe fit. As with personal messages, you can choose to apply first-word capitalization or standard capitalization guidelines.



| | |
| --- | --- |
| Respectfully yours | Kind (or Best) Regards |
| Sincerely yours | With Regards |
| With many thanks | To Your Continued Success |
| All the best | Sincerely |
| Best wishes | Cordially |


Just like please and thank you, proper salutations and closings are small and simple investments that can help you reap desired returns. Keep them in the writer's toolbox you maintain to connect with others through the meaning and power of words.


Because of the e-newsletter's large readership, please submit your comments or questions regarding today's (or any past) article through GrammarBook.com's Grammar Blog
---
Free BONUS Quiz for You!

[[firstname]], because you are a subscriber to the newsletter, you get access to one of the Subscribers-Only Quizzes. Click here to take a Hyphens Between Words Quiz and get your scores and explanations instantly!
---

"GrammarBook's subscription quizzes opened a new door for me, a way to see exactly who is doing the work and who isn't, and it is very convenient for the students."
"So convenient … hundreds of quizzes in one click."

[[firstname]], Subscribe to receive hundreds of English usage quizzes not found anywhere else!

Take the quizzes online or download and copy them.
Get scored instantly.
Find explanations for every quiz answer.
Reproduce the quizzes to your heart's content.
EASY to use.
No software to download.
No setup time.
A real person to help you if you have any questions!
Instructors and Employers: we make your life easier!
Assign quizzes to your students or employees.
Students log in from anywhere.
Scores are tallied and compiled for you.
You decide whether to let students see their own scores and quiz explanations.
Let GrammarBook.com take the hassle out of teaching English!
"Fun to test my skills!"
"The explanations really help … thanks!"
Your choice: Subscribe at the $29.95 or $99.95 level ($30 off - previously $129.95).
"I download the quizzes for my students who don't have computer access."
Subscribe today to receive hundreds of English usage quizzes not found anywhere else!
"Makes learning English FUN!"
If you think you have found an error in a quiz, please email us at help@grammarbook.com

.
---
Don't need all the quizzes at once?
You can now purchase the same quizzes individually for ONLY 99¢ each. Purchase yours here.
---
Get Yours Today!

Get Amazon's No. 1 Best-seller in Four Categories!
No. 1 in Grammar
No. 1 in Reading
No. 1 in Lesson Planning
No. 1 in Vocabulary

The Blue Book of Grammar
and Punctuation
by Jane Straus, Lester Kaufman, and Tom Stern

The Authority on English Grammar!
Eleventh Edition Now Available

Have You Ordered Your Copy Yet?

An indispensable tool for busy professionals, teachers, students, homeschool families, editors, writers, and proofreaders.

Available in print AND as an e-Book! Over 2,000 copies are purchased every month!

Hundreds of Grammar, Punctuation, Capitalization, and Usage Rules
Real-World Examples
Spelling / Vocabulary / Confusing Words
Quizzes with Answers

The publisher of The Blue Book, Jossey-Bass, A Wiley brand, is offering a 35 percent discount for those of you who order the book through Wiley.com. Shipping and tax are not included. Simply go to bit.ly/1996hkA and use discount code E9X4A.

*Offer expires December 31, 2017.
---
Wordplay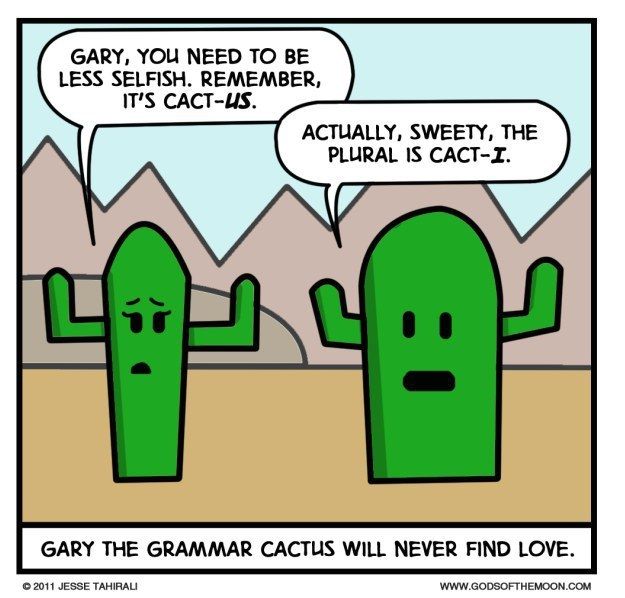 Really, the plural can be either cactuses or cacti; it's a matter of preference.
But the cartoon is still fun.


---
Learn all about who and whom, affect and effect, subjects and verbs, adjectives and adverbs, commas, semicolons, quotation marks, and much more by just sitting back and enjoying these easy-to-follow lessons. Tell your colleagues (and boss), children, teachers, and friends. Click here to watch.