Welcome to your GrammarBook.com E-Newsletter.

---
"Your book has made me a better writer."
—Gary.

"Your site is one of the best! Thank you for giving the gift of knowledge."
—John E.

"I'm learning something every week."
—Fazlul K.

Learning From the Masters

There is a universal fellowship of nitpickers and always has been.

More than a century ago, the iconoclastic American writer Ambrose Bierce gave the world Write It Right (1909) and The Devil's Dictionary (1911). George Orwell published his classic essay Politics and the English Language in 1946. In the 1970s and '80s, former NBC news anchor Edwin Newman and New York literary and drama critic John Simon each wrote best-sellers deploring our nation's declining language skills. The New York Times Magazine ran William Safire's curmudgeonly "On Language" column from 1979 until his death in 2009.

There are any number of grammar sticklers online. GrammarGirl.com is a popular site with young people; baby boomers might enjoy bbhq.com/brushup.htm.

There are also countless reference books, starting with the American Heritage dictionary, with its Usage Panel of distinguished scholars. No pedant's library is complete without The Elements of Style by Strunk and White and A Dictionary of Modern English Usage by H.W. Fowler (I recommend the 1965 second edition; I'm told the 1996 third edition has made some questionable compromises).

Serious authors and journalists are never much farther from the Chicago Manual of Style or the Associated Press Stylebook than a clergyman is from his bible.

These books present a united front against ignorance, but reading them, one notices their authors don't march in lockstep—like politicians, there are conservative and liberal word nerds, and they can differ widely over what's acceptable.

Consider this sentence: It's different for men than for women. "Since the 18th century," says the American Heritage dictionary, "language critics have singled out different than as incorrect."

Although hairsplitters from both sides of the aisle endorse different from, "It's different for men from for women" obviously doesn't work. And "It's different for men from the way it is for women" is wordy and stiff. So language liberals would tend to accept different for men than for women in cases like this. The conservatives wouldn't budge. They'd most likely insist on rewriting the sentence—something like "Men and women differ" neatly sidesteps this whole puddle of mud.

It came as a surprise that some of my reference books didn't condemn different than outright. Fowler's venerated Dictionary of Modern English Usage notes that "different than is sometimes preferred by good writers to the cumbersome different from that which etc." To which Wilson Follett's Modern American Usage responds, "To condone different than because it is sometimes awkward to follow different with [from] is defeatism." "The idea that there is anything wrong with different than is a superstition," declares Roy H. Copperud in A Dictionary of Usage and Style. Theodore M. Bernstein, in The Careful Writer, fires back that if you accept different than, you are a "structural linguist permissivist." Ouch, that can't be good.

I still use these books a lot. Collectively, they've helped me become the stuffed shirt I am today.



—Tom Stern

Due to the E-Newsletter's large readership, please submit your English usage questions through GrammarBook.com's "Grammar Blog."
---
Free BONUS Quiz For You!
[[firstname]], because you are a subscriber to the newsletter, you get access to one of the Subscription Members-Only Quizzes. Click here to take a Subject and Verb Agreement Quiz and get your scores and explanations instantly!
---

"So convenient...hundreds of quizzes in one click."

[[firstname]], Subscribe to receive hundreds of English usage quizzes not found anywhere else!

Take the quizzes online or download and copy them.
Get scored instantly.
Find explanations for every quiz answer.
Reproduce the quizzes to your heart's content.
EASY to use.
No software to download.
No setup time.
A real person to help you if you have any questions!
"Fun to test my skills!" "The explanations really help...thanks!"
Your choice: Subscribe at the $29.95 or $99.95 level ($30 off - regularly $129.95).
"I download the quizzes for my students who don't have computer access."
Subscribe today to receive hundreds of English usage quizzes not found anywhere else!
"Makes learning English FUN!"
---
Don't need all the quizzes at once?
You can now purchase the same quizzes individually for ONLY 99¢ each. Purchase yours here.
---
Get Yours Today!

Get Amazon's #1 Bestseller in Four Categories!
#1 in Grammar
#1 in Reading
#1 in Lesson Planning
#1 in Vocabulary

The Blue Book of Grammar
and Punctuation by Jane Straus

An indispensable tool for busy professionals, teachers, students, homeschool families, editors, writers, and proofreaders.

Now available in print AND as an e-Book! Over 2000 copies are purchased every month!

Hundreds of Grammar, Punctuation, Capitalization, and Usage Rules
Real-World Examples
Spelling / Vocabulary / Confusing Words
Quizzes with Answers
View the entire contents online
Discounts available for schools, bookstores, and multiple copies. Order Today!
---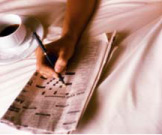 Wordplay

The Surprising Origins of Common Words submitted by Tim Handorf of BestCollegesOnline.net

Chocolate: Chocolate is a Spanish mispronunciation of a Nahuatl word. When the Spaniards arrived in Mexico, they discovered the Aztecan drink that combined coco and water named xocolatl, meaning "bitter water." The Spanish modified it to chocolato, which later became chocolate in Europe once it adopted the drink.
---
Learn all about who and whom, affect and effect, subjects and verbs, adjectives and adverbs, commas, semicolons, quotation marks, and much more by just sitting back and enjoying these easy-to-follow lessons. Tell your colleagues (and boss), children, teachers, and friends. Click here to watch.