Welcome to your GrammarBook.com E-Newsletter.

---
"I like receiving your newsletters. It's nice to take the pop quizzes."
- Ainee B.

"I like this site because it helps me use words properly."
- Dua C.

"Thanks for all your stimulating newsletters."
- Allan

"I often use your tips with my Chinese staff, as the material zeroes in on common writing problems that cause confusion in emails and presentations."
- Matt B.


Allot vs. A Lot; Allowed vs. Aloud

I am not sure why so many "Al" words, e.g., altogether vs. all together, alright vs. all right, already vs. all ready, cause so much confusion but here are two more pairs of "Al" words clarified for you.

Allot vs. A Lot

The word allot means to parcel out.

Example: The company will allot each of us a cell phone.

The expression a lot means many or much.

Example: We had a lot of fun.

Example: A lot of people showed up for the concert.

Note that even though you may see alot written by a lot of people, there is no such word.

Allowed vs. Aloud

The word allowed means gave permission to.

Example: He allowed his daughter to stay out until 10:00 PM.

The word aloud means said out loud, spoken.

Example: He read the Haiku aloud.

Due to the E-Newsletter's large readership, we are unable to respond to individual English usage questions.
---
Pop Quiz
Choose the correct word in the sentences below. Scroll down to view answers.
1. A lot/Allot of us were confused by the teacher's lecture.
2. I like chocolate ice cream a lot/allot/alot.
3. Does that university a lot/allot many scholarships?
4. Are you allowed/aloud to go off campus during lunch?
5. If you practice your speech allowed/aloud, you will memorize it more easily.
---
Free BONUS Quiz For You!
[[firstname]], because you are a subscriber to the newsletter, you get access to one of the Subscription Members-Only Quizzes. Click here to take a Problems with Prepositions Quiz and get your scores and explanations instantly!
---

"So convenient...hundreds of quizzes in one click."

[[firstname]], Subscribe to receive hundreds of English usage quizzes not found anywhere else!

Take the quizzes online or download and copy them.
Get scored instantly.
Find explanations for every quiz answer.
Reproduce the quizzes to your heart's content.
EASY to use.
No software to download.
No setup time.
A real person to help you if you have any questions!
"Fun to test my skills!" "The explanations really help...thanks!"
Your choice: Subscribe at the $29.95 or $99.95 level ($30 off - regularly $129.95).
"I download the quizzes for my students who don't have computer access."
Subscribe today to receive hundreds of English usage quizzes not found anywhere else!
"Makes learning English FUN!"
---
Don't need all the quizzes at once?
You can now purchase the same quizzes individually for ONLY 99¢ each. Purchase yours here.
---
Get Yours Today!

Get Amazon's #1 Bestseller in Four Categories!
#1 in Grammar
#1 in Reading
#1 in Lesson Planning
#1 in Vocabulary

The Blue Book of Grammar
and Punctuation by Jane Straus

An indispensable tool for busy professionals, teachers, students, homeschool families, editors, writers, and proofreaders.

Now available in print AND as an e-Book! Over 2000 copies are purchased every month!

Hundreds of Grammar, Punctuation, Capitalization, and Usage Rules
Real-World Examples
Spelling / Vocabulary / Confusing Words
Quizzes with Answers
View the entire contents online
Discounts available for schools, bookstores, and multiple copies. Order Today!
---
Pop Quiz Answers
1. A lot
2. a lot
3. allot
4. allowed
5. aloud
---
Wordplay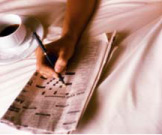 Language trivia:
"Dreamt" is the only English word that ends in the letters "mt."
The symbol on the pound key (#) is called
an octothorpe.
---
Learn all about who and whom, affect and effect, subjects and verbs, adjectives and adverbs, commas, semicolons, quotation marks, and much more by just sitting back and enjoying these easy-to-follow lessons. Tell your colleagues (and boss), children, teachers, and friends. Click here to watch.