Welcome to your GrammarBook.com E-Newsletter.

---
"This is a great site. The quizzes really helped me!"
- Kathy S.

"I love your E-Newsletter. It is very informative and has allowed me to learn English more effectively than I could have imagined."
- Ania W.

"I always enjoy and learn from your very clear and concise explanations of grammar rules."
- Sally A.

Capitalization of Governmental Words

When you write about or to a governmental agency, do you wonder when to capitalize? Here are some simple rules to help you.

Rule: When you use the complete names of departments, capitalize. You may also capitalize a shortened form of a department. Do not capitalize when these words are used as adjectives or generically.

Examples:
the United Nations General Assembly
the General Assembly
Congress
a congressional committee

Rule: Capitalize civil titles only when used with the name following or when used in place of a name.

Examples:
Councilman Harris
the councilman
President Obama
the president

Rule: If you are working on government documents or you are representing a government agency, then you may capitalize words like City, County, and District.

Example: The County will implement the plan approved by the voters last June.

Rule: When you refer back to a proper noun using a shortened version of the original name, you may capitalize it.

Example: The District Water Plan allocates… The Plan calls for…

Example: The Federal Bureau of Investigation has taken the case. The Bureau has sent out a bulletin to other federal departments to enlist their help in capturing the fugitive.
---
Free BONUS Quiz For You!
[[firstname]], because you are a subscriber to the newsletter, you get access to one of the Subscription Members-Only Quizzes. Click here to take a Capitalization Quiz and get your scores and explanations instantly!
---

"So convenient...hundreds of quizzes in one click."

[[firstname]], Subscribe to receive hundreds of English usage quizzes not found anywhere else!

Take the quizzes online or download and copy them.
Get scored instantly.
Find explanations for every quiz answer.
Reproduce the quizzes to your heart's content.
EASY to use.
No software to download.
No setup time.
A real person to help you if you have any questions!
"Fun to test my skills!" "The explanations really help...thanks!"
Your choice: Subscribe at the $29.95 or $99.95 level ($30 off - regularly $129.95).
"I download the quizzes for my students who don't have computer access."
Subscribe today to receive hundreds of English usage quizzes not found anywhere else!
"Makes learning English FUN!"
---
Don't need all the quizzes at once?
You can now purchase the same quizzes individually for ONLY 99¢ each. Purchase yours here.
---
Get Yours Today!

Get Amazon's #1 Bestseller in Four Categories!
#1 in Grammar
#1 in Reading
#1 in Lesson Planning
#1 in Vocabulary

The Blue Book of Grammar
and Punctuation by Jane Straus

An indispensable tool for busy professionals, teachers, students, homeschool families, editors, writers, and proofreaders.

Now available in print AND as an e-Book! Over 2000 copies are purchased every month!

Hundreds of Grammar, Punctuation, Capitalization, and Usage Rules
Real-World Examples
Spelling / Vocabulary / Confusing Words
Quizzes with Answers
View the entire contents online
Discounts available for schools, bookstores, and multiple copies. Order Today!
---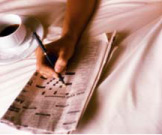 Wordplay

A will is a dead giveaway.

Time flies like an arrow; fruit flies like a banana.

Atheism is a non-prophet organization.
---
Learn all about who and whom, affect and effect, subjects and verbs, adjectives and adverbs, commas, semicolons, quotation marks, and much more by just sitting back and enjoying these easy-to-follow lessons. Tell your colleagues (and boss), children, teachers, and friends. Click here to watch.