Welcome to your GrammarBook.com E-Newsletter.

---
"I am a huge fan of your Blue Book of Grammar and Punctuation and credit it for several GPA points in my college English classes."
- Giffin D.

"I love your website. It is simple, straight to the point, and has helped me become aware of things I didnít know that I didnít know."
- Isaac

"I look forward to your newsletter every week; it is a great help."
- Tess G.

"I have learned so much from your grammar lessons."
- Joseph N.

Writing Dates and Times

Rule: The following examples apply when using dates:

The meeting is scheduled for June 30.

The meeting is scheduled for the 30th of June.

We have had tricks played on us on April 1.

The 1st of April puts some people on edge.

Rule: When expressing decades, you may spell them out and lowercase them.

Example: During the eighties and nineties, the United States economy grew.

Rule: Whether you express decades using incomplete or complete numerals, do not use an apostrophe between the year and the s. When using an incomplete numeral, use an apostrophe to replace the first two numbers.

Correct:
During the '80s, the world's economy grew.
During the 1980s, the world's economy grew.

Incorrect:
During the '80's, the world's economy grew.
During the 1980's, the world's economy grew.

Rule: Spell out the time of day in text even with half and quarter hours. With o'clock, the number is always spelled out.

Examples:
She gets up at four thirty before the baby wakes up.
The baby wakes up at five o'clock in the morning.

Rule: Use numerals with the time of day when exact times are being emphasized.

Examples:
Her flight leaves at 6:22 a.m.
Please arrive by 12:30 p.m. sharp.

Rule: Use noon and midnight rather than 12:00 a.m. or 12:00 p.m.

Note: You may use AM and PM rather than a.m. and p.m.

Due to the E-Newsletter's large readership, we are unable to respond to individual English usage questions.
---
Free BONUS Quiz For You!
[[firstname]], because you are a subscriber to the newsletter, you get access to one of the Subscription Members-Only Quizzes. Click here to take a Writing Numbers Quiz and get your scores and explanations instantly!
---

"So convenient...hundreds of quizzes in one click."

[[firstname]], Subscribe to receive hundreds of English usage quizzes not found anywhere else!

Take the quizzes online or download and copy them.
Get scored instantly.
Find explanations for every quiz answer.
Reproduce the quizzes to your heart's content.
EASY to use.
No software to download.
No setup time.
A real person to help you if you have any questions!
"Fun to test my skills!" "The explanations really help...thanks!"
Your choice: Subscribe at the $29.95 or $99.95 level ($30 off - regularly $129.95).
"I download the quizzes for my students who don't have computer access."
Subscribe today to receive hundreds of English usage quizzes not found anywhere else!
"Makes learning English FUN!"
---
Don't need all the quizzes at once?
You can now purchase the same quizzes individually for ONLY 99¢ each. Purchase yours here.
---
Get Yours Today!

Get Amazon's #1 Bestseller in Four Categories!
#1 in Grammar
#1 in Reading
#1 in Lesson Planning
#1 in Vocabulary

The Blue Book of Grammar
and Punctuation by Jane Straus

An indispensable tool for busy professionals, teachers, students, homeschool families, editors, writers, and proofreaders.

Now available in print AND as an e-Book! Over 2000 copies are purchased every month!

Hundreds of Grammar, Punctuation, Capitalization, and Usage Rules
Real-World Examples
Spelling / Vocabulary / Confusing Words
Quizzes with Answers
View the entire contents online
Discounts available for schools, bookstores, and multiple copies. Order Today!
---
Wordplay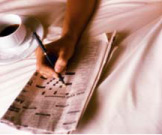 When youíve seen one shopping center, youíve seen a mall.
You are stuck with your debt if you canít budget.
The short fortune teller who escaped from prison: a small medium at large.
---
Learn all about who and whom, affect and effect, subjects and verbs, adjectives and adverbs, commas, semicolons, quotation marks, and much more by just sitting back and enjoying these easy-to-follow lessons. Tell your colleagues (and boss), children, teachers, and friends. Click here to watch.