Welcome to your GrammarBook.com E-Newsletter.

---
"I love getting the GrammarBook.com E-Newsletters every week. I always learn something."
—Molly C.

"I just started getting your newsletter, and I find it extremely valuable."
—Joanne B.

"Thank you for being the voice of reason. And thank you also for offering the Newsletter. I look forward to each issue."
—Jim B.

Whom Abuse Is Rampant

Consider the humble pronoun. It seems that fewer and fewer Americans know when to say "she" or "he" or "me" instead of "her," "him," or "I."

It used to be that little Gloria would run home and tell her mother, "Me 'n' Annie saw a walrus!" Whereupon her mom would say, " 'Annie and I,' dear." Now, alas, Gloria's mother thinks "me 'n' Annie" is just fine.

So why is it that so many pronoun-challenged Americans are infatuated with whom? It's a word that's become exotic and mysterious, and people say it when they want to sound authoritative, because even if they're misusing it, chances are their listeners won't know.

Let's get technical. The pronoun who is about the subject. Use who wherever you would use the subjective pronouns I, he, she, we, or they. It is correct to say Who wants to go? because we would say She wants to go or We want to go.

The pronoun whom is always an object. Use whom wherever you would use the objective pronouns me, him, her, us, or them. It is not correct to say Who did you choose? We would say Whom because you choose me or him or them.

A handy memory aid: who = he, whom = him.

Here is an all-too-common misuse of whom: He is a man whom I believe can do the job. The writer chose whom, thinking it was the object of believe. But look what happens when we rearrange the sentence: He is a man whom can do the job, I believe. Obviously, the proper word is who.

Compare that with He is a man who I admire. Because we would say I admire him, the sentence should read He is a man whom I admire.

The key to mastering whom comes down to knowing the difference between a subject and an object.

Due to the E-Newsletter's large readership, please submit your English usage questions through GrammarBook.com's "Grammar Blog."
---
Pop Quiz

1. Who/whom do you think will win the prize?

2. Who/whom do you think you'll vote for?

3. She is someone who/whom I always counted on.

4. She is someone who/whom I always said could be counted on.

5. Who/whom are you going to believe?



---
Free BONUS Quiz For You!
[[firstname]], because you are a subscriber to the newsletter, you get access to one of the Subscription Members-Only Quizzes. Click here to take a Who vs. Whom Quiz and get your scores and explanations instantly!
---

"So convenient...hundreds of quizzes in one click."

[[firstname]], Subscribe to receive hundreds of English usage quizzes not found anywhere else!

Take the quizzes online or download and copy them.
Get scored instantly.
Find explanations for every quiz answer.
Reproduce the quizzes to your heart's content.
EASY to use.
No software to download.
No setup time.
A real person to help you if you have any questions!
"Fun to test my skills!" "The explanations really help...thanks!"
Your choice: Subscribe at the $29.95 or $99.95 level ($30 off - regularly $129.95).
"I download the quizzes for my students who don't have computer access."
Subscribe today to receive hundreds of English usage quizzes not found anywhere else!
"Makes learning English FUN!"
---
Don't need all the quizzes at once?
You can now purchase the same quizzes individually for ONLY 99¢ each. Purchase yours here.
---
Get Yours Today!

Get Amazon's #1 Bestseller in Four Categories!
#1 in Grammar
#1 in Reading
#1 in Lesson Planning
#1 in Vocabulary

The Blue Book of Grammar
and Punctuation by Jane Straus

An indispensable tool for busy professionals, teachers, students, homeschool families, editors, writers, and proofreaders.

Now available in print AND as an e-Book! Over 2000 copies are purchased every month!

Hundreds of Grammar, Punctuation, Capitalization, and Usage Rules
Real-World Examples
Spelling / Vocabulary / Confusing Words
Quizzes with Answers
View the entire contents online
Discounts available for schools, bookstores, and multiple copies. Order Today!
---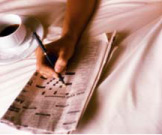 Wordplay

These are reported to be quotes from Lawrence "Yogi" Berra, baseball Hall of Fame catcher who played for the New York Yankees for nineteen years.

"The towels were so thick there I could hardly close my suitcase."

"Half the lies they tell about me aren't true."

As a general comment on baseball: "Ninety percent of the game is half mental."
---
Pop Quiz Answers

1. Who do you think will win the prize? (they will)

2. Whom do you think you'll vote for? (for him)

3. She is someone whom I always counted on. (I counted on her)

4. She is someone who I always said could be counted on. (she could be counted on)

5. Whom are you going to believe? (you're going to believe me)
---
Learn all about who and whom, affect and effect, subjects and verbs, adjectives and adverbs, commas, semicolons, quotation marks, and much more by just sitting back and enjoying these easy-to-follow lessons. Tell your colleagues (and boss), children, teachers, and friends. Click here to watch.