Welcome to your GrammarBook.com E-Newsletter.

---
"I love this website and use it all the time as an editing reference."
- Mary M.

"Your newsletters are invaluable."
- Debra P.

"Your book is really good. Thanks for the weekly e-newsletters as well."
- Nicole S.

"I am happy to have subscribed. I now have a new chance to improve my grammar."
- Ben U.

Can vs. May

Although, traditionally, can has meant "to be able" and may has meant "to be permitted" or to express possibility, both can and may are commonly used interchangeably in respect to permission.

Example: He can hold his breath for 30 seconds.

Meaning: He is able to hold his breath for 30 seconds.

Example: He may hold his breath for 30 seconds.

Meaning #1: It is possible that he will hold his breath.

Meaning #2: He has permission to hold his breath. (This meaning is unlikely.)

Example: May/Can I go to the mall tonight?

Regardless of whether you choose can or may here, it is clear that permission is being requested.

In spoken English, a request for permission is generally answered with can, cannot, or canít, rather than with may or may not, even if the question was formed using may. (Although maynít is a word, it looks and sounds strange even to native speakers.)

Example of Dialogue:
"May I go to the mall tonight?"
"No, you canít/cannot go." OR "Yes, you can go."

Occasionally, you may hear someone say something like, "I cannot but argue when you say such silly things." The expression cannot but is actually a shorthand way of saying "cannot help but." You may also hear the expression can but, which means "can only."

Example: We can but do our best to arrive on time.

Due to the E-Newsletter's large readership, we are unable to respond to individual English usage questions.
---
Pop Quiz
Choose the correct word in each sentence below. Scroll down to view answers.
1.Can/May you imagine a world without war?
2.Can/May I call you for a date?
3.She can/may run faster than anyone else on the team. (able to)
---
Free BONUS Quiz For You!
[[firstname]], because you are a subscriber to the newsletter, you get access to one of the Subscription Members-Only Quizzes. Click here to take a Confusing Words and Homonyms Quiz and get your scores and explanations instantly!
---

"So convenient...hundreds of quizzes in one click."

[[firstname]], Subscribe to receive hundreds of English usage quizzes not found anywhere else!

Take the quizzes online or download and copy them.
Get scored instantly.
Find explanations for every quiz answer.
Reproduce the quizzes to your heart's content.
EASY to use.
No software to download.
No setup time.
A real person to help you if you have any questions!
"Fun to test my skills!" "The explanations really help...thanks!"
Your choice: Subscribe at the $29.95 or $99.95 level ($30 off - regularly $129.95).
"I download the quizzes for my students who don't have computer access."
Subscribe today to receive hundreds of English usage quizzes not found anywhere else!
"Makes learning English FUN!"
---
Don't need all the quizzes at once?
You can now purchase the same quizzes individually for ONLY 99¢ each. Purchase yours here.
---
Get Yours Today!

Get Amazon's #1 Bestseller in Four Categories!
#1 in Grammar
#1 in Reading
#1 in Lesson Planning
#1 in Vocabulary

The Blue Book of Grammar
and Punctuation by Jane Straus

An indispensable tool for busy professionals, teachers, students, homeschool families, editors, writers, and proofreaders.

Now available in print AND as an e-Book! Over 2000 copies are purchased every month!

Hundreds of Grammar, Punctuation, Capitalization, and Usage Rules
Real-World Examples
Spelling / Vocabulary / Confusing Words
Quizzes with Answers
View the entire contents online
Discounts available for schools, bookstores, and multiple copies. Order Today!
---
Writing Essays and Term Papers Can Be a Pain
Learn How to Write 300 to 3,000 Word Essays Quickly and Easily and Become a Classroom Superstar!
New eBook reveals all the shortcuts to:
writing A+ essays and term papers consistently
becoming the best writer in your class, even if you never thought you could
cutting essay-writing time in half
feeling confident about your writing every time
much, much more!
---
Pop Quiz Answers
1.Can
2.Can or May
3.Can
---
Wordplay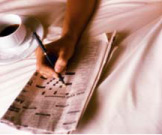 She was only a whiskey maker, but he loved her still.
No matter how much you push the envelope, it'll still be stationery.
When a clock is hungry, it goes back four seconds.
---
Learn all about who and whom, affect and effect, subjects and verbs, adjectives and adverbs, commas, semicolons, quotation marks, and much more by just sitting back and enjoying these easy-to-follow lessons. Tell your colleagues (and boss), children, teachers, and friends. Click here to watch.