Welcome to your GrammarBook.com E-Newsletter.

---
"I love getting your newsletter every week. I always learn something."
— Molly C.

"I really enjoy the training and tests that you offer!"
— Carol S.

"Your material is especially valuable in my line of work."
— Serei N.

Sabotage in Broad Daylight?

If you like being punched in the gut, type the word literally into Google, everyone's favorite Internet search engine. Here is what you'll find:



In a literal manner or sense; exactly: "the driver took it literally when asked to go straight over the traffic circle".
Used to acknowledge that something is not literally true but is used for emphasis or to express strong feeling.

If you're like most sticklers, definition 2 just ruined your day. When literally can mean "not literally true," aren't we living an Orwellian nightmare?

Since when is Google qualified to redefine words? A closer look reveals that Google's self-appointed experts don't even know the basics of capitalization or punctuation. For instance, why no capital T for "the driver…"?

Also, keep in mind that in America, periods never go outside quotation marks, and Google is an American company. What contortions would a Google spokesperson have to go through to defend the period placement at the end of definition 1?

Look at the wording of definition 2: "Used to acknowledge…" Does this strike you as a bit coy? Note the passive voice, which allows Google to duck the key question: "Used" by whom? Well, you hear it (ab)used a lot by education-challenged 18- to 49-year-olds who clearly have not bothered to learn what the word means. That's why they say things like, "She literally threw me under the bus" and "I'm literally freezing to death."

This is the very demographic that produced Google's founders, and most of its employees. These
literally-torturers are the people who make the company profitable. So Google "gives back" by legitimizing its best customers' sabotage of this powerful word.

We language watchdogs may not like it, but for Google, showing solidarity with its contemporaries—even to the point of endorsing their ignorance—is a savvy business decision.

Due to the E-Newsletter's large readership, please submit your English usage questions through GrammarBook.com's "Grammar Blog."
---
Free BONUS Quiz For You!
[[firstname]], because you are a subscriber to the newsletter, you get access to one of the Subscription Members-Only Quizzes. Click here to take a Capitalization Quiz and get your scores and explanations instantly!
---

"So convenient...hundreds of quizzes in one click."

[[firstname]], Subscribe to receive hundreds of English usage quizzes not found anywhere else!

Take the quizzes online or download and copy them.
Get scored instantly.
Find explanations for every quiz answer.
Reproduce the quizzes to your heart's content.
EASY to use.
No software to download.
No setup time.
A real person to help you if you have any questions!
"Fun to test my skills!" "The explanations really help...thanks!"
Your choice: Subscribe at the $29.95 or $99.95 level ($30 off - regularly $129.95).
"I download the quizzes for my students who don't have computer access."
Subscribe today to receive hundreds of English usage quizzes not found anywhere else!
"Makes learning English FUN!"
---
Don't need all the quizzes at once?
You can now purchase the same quizzes individually for ONLY 99¢ each. Purchase yours here.
---
Get Yours Today!

Get Amazon's #1 Bestseller in Four Categories!
#1 in Grammar
#1 in Reading
#1 in Lesson Planning
#1 in Vocabulary

The Blue Book of Grammar
and Punctuation by Jane Straus

An indispensable tool for busy professionals, teachers, students, homeschool families, editors, writers, and proofreaders.

Now available in print AND as an e-Book! Over 2000 copies are purchased every month!

Hundreds of Grammar, Punctuation, Capitalization, and Usage Rules
Real-World Examples
Spelling / Vocabulary / Confusing Words
Quizzes with Answers
View the entire contents online
Discounts available for schools, bookstores, and multiple copies. Order Today!
---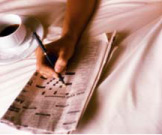 Wordplay

These are reported to be quotes from Lawrence "Yogi" Berra, baseball Hall of Fame catcher who played for the New York Yankees for nineteen years.

It's like deja vu all over again.
We made too many wrong mistakes.
You can observe a lot just by watching.
A nickel ain't worth a dime anymore.

---
Learn all about who and whom, affect and effect, subjects and verbs, adjectives and adverbs, commas, semicolons, quotation marks, and much more by just sitting back and enjoying these easy-to-follow lessons. Tell your colleagues (and boss), children, teachers, and friends. Click here to watch.