Welcome to your GrammarBook.com E-Newsletter.

---
"Your rules are the easiest to follow and adopt of any website."
- Tom C.

"I truly love the extras you provide."
- John D.

"I use your site all the time both at work and home."
- Naida C.

Basically, why your cohort isn't your buddy

I received an e-mail from a fellow fussbudget deploring "basically." He considers it meaningless and useless, and if you think about it, he has a point. Say any sentence with it and without it, and basically there's no change in meaning (see?).

Perhaps the most basic use of basically is as a promise to cut the nonsense and get down to business: "This plan is basically unworkable." Fundamentally, essentially, and the bottom line is… are similar expressions.

Some people use basically as a sort of curtain-raiser, to give their remarks a smooth opening, like "I'd just like to say…" The trouble starts when it's overused, and becomes a verbal crutch, alongside "um," "like," and "y'know."

Sometimes basically can reflect a goal or a wish, like theoretically or in an ideal world. "Basically, I'm trying to work out four times a week." Other times, we use it to temper our statements so that they don't seem aggressive or bombastic. "I just basically feel that the country's headed in the wrong direction." We don't want to come off as overbearing, and this use of basically is a way of backing off a bit, conveying what the user hopes is some measure of humility and humanity.

So, yes, basically is extraneous—but at least it's innocuous if used sparingly. The question my correspondent raised is if it ever adds anything meaningful to a sentence. A whole lot of smart, articulate people use it; you really do hear it everywhere. It must fill some arcane need.

Maybe it's because on its best day, basically can be used in all the senses discussed above: "I'd just generally like to say in all humility that essentially, in an ideal world, the bottom line is…" If you can express all that in one word, go ahead and use it.

As for me, though, here's a sentence I have no problem with: Basically, avoid using basically.

On to this week's nominees for the Hall of Shame:

Cohort Your friend is a crony, confidant, or collaborator, but not a cohort. In ancient Rome, a cohort was a division of 300-600 soldiers. So careful speakers and writers avoid cohort when referring to one person. Your cohort is not your comrade, ally, teammate, or assistant. It's a whole group, gang, team, posse: "A cohort of laborers went on strike."

Nauseous Once upon a time, if you said "I'm nauseous," it meant you were disgusting. Yes, it's true, nauseous and nauseating once were synonymous. Years of carelessness shifted the focus of the adjective from the cause of the nausea to the person affected. Still, word nerds get a secret chuckle from hearing an obnoxious person say he was "nauseous" last night.

Blond, blonde A blonde is a woman with blond hair. Note the different spellings. The e at the end applies exclusively to women, except when the word's an adjective. According to the Associated Press Stylebook, both men and women have blond hair—no e in either case. (For the record, a man is a blond.)

Prone, supine "The victim was found lying prone, her eyes gazing sightlessly at a full moon." Sorry, but this is a maneuver only the swivel-headed girl from The Exorcist could pull off, because when you're prone, you're lying on your stomach. Make that supine, which means "lying on one's back."

Indicated that "A full 72 percent of respondents indicated that they have a room in their home devoted to entertainment." Indicated? How, by charades? Smoke signals? Some writers will do anything to avoid said. Don't fuss up your writing with indicated, stated, asserted, uttered, averred, etc. I'm obviously not vetoing words like replied, added, declared, explained, which have valid shades of meaning. But when reporting simple speech, just go generic with sweet little ol' said, over and over again. No one will notice and no one will mind.

Today's grammar tip was contributed by veteran copy editor and word nerd Tom Stern.

Due to the E-Newsletter's large readership, please submit your English usage questions through GrammarBook.com's "Grammar Blog."
---
Free BONUS Quiz For You!
[[firstname]], because you are a subscriber to the newsletter, you get access to one of the Subscription Members-Only Quizzes. Click here to take a Confusing Words and Homonyms Quiz and get your scores and explanations instantly!
---

"So convenient...hundreds of quizzes in one click."

[[firstname]], Subscribe to receive hundreds of English usage quizzes not found anywhere else!

Take the quizzes online or download and copy them.
Get scored instantly.
Find explanations for every quiz answer.
Reproduce the quizzes to your heart's content.
EASY to use.
No software to download.
No setup time.
A real person to help you if you have any questions!
"Fun to test my skills!" "The explanations really help...thanks!"
Your choice: Subscribe at the $29.95 or $99.95 level ($30 off - regularly $129.95).
"I download the quizzes for my students who don't have computer access."
Subscribe today to receive hundreds of English usage quizzes not found anywhere else!
"Makes learning English FUN!"
---
Don't need all the quizzes at once?
You can now purchase the same quizzes individually for ONLY 99¢ each. Purchase yours here.
---
Get Yours Today!

Get Amazon's #1 Bestseller in Four Categories!
#1 in Grammar
#1 in Reading
#1 in Lesson Planning
#1 in Vocabulary

The Blue Book of Grammar
and Punctuation by Jane Straus

An indispensable tool for busy professionals, teachers, students, homeschool families, editors, writers, and proofreaders.

Now available in print AND as an e-Book! Over 2000 copies are purchased every month!

Hundreds of Grammar, Punctuation, Capitalization, and Usage Rules
Real-World Examples
Spelling / Vocabulary / Confusing Words
Quizzes with Answers
View the entire contents online
Discounts available for schools, bookstores, and multiple copies. Order Today!
---
Wordplay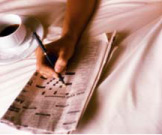 Thanks to Jim T. for submitting these items that are purported to be actual analogies and metaphors found by teachers in the essays of high school students.

It was an American tradition, like fathers chasing kids around with power tools.

He was deeply in love. When she spoke, he thought he heard chimes ringing, as if she were a garbage truck backing up.

He was as lame as a duck. Not the metaphorical lame duck, either, but a real duck that was actually lame, maybe from stepping on a land mine or something.


---
Learn all about who and whom, affect and effect, subjects and verbs, adjectives and adverbs, commas, semicolons, quotation marks, and much more by just sitting back and enjoying these easy-to-follow lessons. Tell your colleagues (and boss), children, teachers, and friends. Click here to watch.