Welcome to your GrammarBook.com e-newsletter.
The Blue Book of Grammar and Punctuation is exactly what I needed to learn and teach grammar. It is an invaluable tool for my profession and I will treasure it. Thank you so much!
—Sugu M.



Your lessons on GrammarBook.com are helping me improve my English language skills.
—Raghunath R.



Thank you for your wonderful
e-newsletter. It is very helpful and I keep learning from it.
—Margaret H.

Word Choice: Small Is Still Better Than Big

The true size of the English language is often debated and probably impossible to determine. Those who do try to quote the count tend to agree that English includes about 250,000 to 300,000 distinctly usable words.

The second edition of the 20-volume Oxford English Dictionary (2009) comprises 171,476 words in current use; 47,156 obsolete words; and another 9,500 derivative words as subentries (a total of 228,132).

The estimate of an English speaker's vocabulary varies more widely. Some say the average person has 5,000 to 6,000 words for retrieval. Others say 10,000 to 20,000. In a May 2013 web article, The Economist used its own test results to measure that an adult native's vocabulary ranged from 20,000 to 35,000 words. William Shakespeare was said to have had a word bank that soared as high as 60,000.

Of perhaps even greater note, whatever the size of your vocabulary, many agree that most of us draw from a main base of up to 1,000 words to express ourselves—which leads to why we're discussing big versus small.

Words' primary function is to convey our thoughts, ideas, wishes, and opinions. If people have a vocabulary of 5,000 words on the low end and 35,000 on the high (we won't include Shakespeare), but they often rely on a core 1,000, we can deduce that a part of our language will be understood by all.

A look at just one list of the 1,000 most common words shows almost all have three or fewer syllables. We use a smaller, simpler index because it ensures greater clarity and easier processing, which leads to greater trust, which leads to greater credibility.

A Princeton University study determined that using big words can even make people look, well, not so smart. When it comes to words, small beats big, and clear outfoxes complex.

GrammarBook.com has touched on this in Resolutions for Word Nerds (see #4). We have also cited where a four- or five-star word can be acceptable and even desirable (Big Words We Can Use).

Overall, we believe expressive and persuasive writing blends the diverse, pointed, and evocative words available to us. Some will be big, and some will be small. In everyday communication, however, we uphold the adage that less is more in making sure we're quickly understood, especially in an age of content overload.

Here's but a start on keeping your writing ready to convert from big to small:



| | |
| --- | --- |
| Instead of: | Use: |
| abstemious | restrained or moderate |
| anachronistic | out of date |
| audacious | bold |
| auspicious | promising |
| circuitous | indirect |
| circumlocution | wordiness |
| conviviality | cheer |
| enervating | tiring |
| hypothesis | theory |
| jubilation | joy |
| magnanimous | selfless |
| ostentatious | flashy or showy |
| parsimonious | frugal |
| perfidious | shady or corrupt |
| perspicacious | alert or aware |




Because of the e-newsletter's large readership, please submit your comments or questions regarding today's (or any past) article through GrammarBook.com's Grammar Blog
---
Free BONUS Quiz for You!

[[firstname]], because you are a subscriber to the newsletter, you get access to one of the Subscribers-Only Quizzes. Click here to take an Adjectives and Adverbs Quiz and get your scores and explanations instantly!
---
More Good News for Quiz Subscribers

We are pleased to announce that we have added even more quizzes to help you challenge yourself, your students, and your staff. We added quizzes to existing categories and created some new categories such as "Vocabulary," "Spelling," "Confusing Verbs," "Subjunctive Mood," "Comprise," and "Sit vs. Set vs. Sat."

We reviewed and strengthened every quiz on our website to ensure consistency with the rules and guidelines contained in our eleventh edition of The Blue Book of Grammar and Punctuation.

If you think you have found an error in a quiz, please email us at help@grammarbook.com.

---

"GrammarBook's subscription quizzes opened a new door for me, a way to see exactly who is doing the work and who isn't, and it is very convenient for the students."
"So convenient … hundreds of quizzes in one click."

[[firstname]], Subscribe to receive hundreds of English usage quizzes not found anywhere else!

Take the quizzes online or download and copy them.
Get scored instantly.
Find explanations for every quiz answer.
Reproduce the quizzes to your heart's content.
EASY to use.
No software to download.
No setup time.
A real person to help you if you have any questions!
Instructors and Employers: we make your life easier!
Assign quizzes to your students or employees.
Students log in from anywhere.
Scores are tallied and compiled for you.
You decide whether to let students see their own scores and quiz explanations.
Let GrammarBook.com take the hassle out of teaching English!
"Fun to test my skills!"
"The explanations really help … thanks!"
Your choice: Subscribe at the $29.95 or $99.95 level ($30 off - previously $129.95).
"I download the quizzes for my students who don't have computer access."
Subscribe today to receive hundreds of English usage quizzes not found anywhere else!
"Makes learning English FUN!"
---
Don't need all the quizzes at once?
You can now purchase the same quizzes individually for ONLY 99¢ each. Purchase yours here.
---
Get Yours Today!

Get Amazon's No. 1 Best-seller in Four Categories!
No. 1 in Grammar
No. 1 in Reading
No. 1 in Lesson Planning
No. 1 in Vocabulary

The Blue Book of Grammar
and Punctuation
by Jane Straus, Lester Kaufman, and Tom Stern

The Authority on English Grammar!
Eleventh Edition Now Available

Have You Ordered Your Copy Yet?

An indispensable tool for busy professionals, teachers, students, homeschool families, editors, writers, and proofreaders.

Available in print AND as an e-Book! Over 2,000 copies are purchased every month!

Hundreds of Grammar, Punctuation, Capitalization, and Usage Rules
Real-World Examples
Spelling / Vocabulary / Confusing Words
Quizzes with Answers

The publisher of The Blue Book, Jossey-Bass, A Wiley brand, is offering a 35 percent discount for those of you who order the book through Wiley.com. Shipping and tax are not included. Simply go to bit.ly/1996hkA and use discount code E9X4A.

*Offer expires December 31, 2017.
---
Wordplay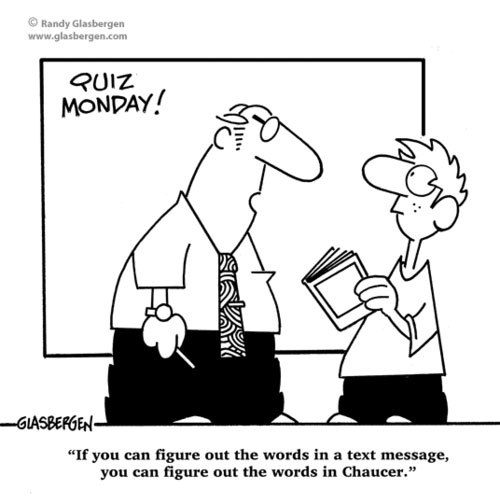 With thanks to cartoonist Randy Glasbergen.


---
Learn all about who and whom, affect and effect, subjects and verbs, adjectives and adverbs, commas, semicolons, quotation marks, and much more by just sitting back and enjoying these easy-to-follow lessons. Tell your colleagues (and boss), children, teachers, and friends. Click here to watch.