Welcome to your GrammarBook.com E-Newsletter.

---
"Your website and E-Newsletters are really helping me. Please keep them coming."
- Syed T.

"I really like your e-mails. Just wanted to say thanks for all your hard work."
-Sandra P.

"I wrote before and now I am working through your book again. I just looked in more detail at your web pages. You did a fantastic job there too; not just on the book!"
- Peter R., Ph.D.

Plural and Possessive Forms with Names Ending in y

How do you form the plural of a proper noun that ends in y such as Murphy? Should you change the name to Murphies? Given how other English words ending in y form their plurals, you would think so.

Examples:
puppy/puppies, army/armies, supply/supplies

However, proper nouns are not pluralized the same way as common nouns are.

Rule: Do not change the spelling of a name to make it plural. Instead, just add s.

Example: I visited the Murphys last weekend.

Example: We have two Zacharys in our office.

What if you want to show possession with a name that ends in y?

Rule: To show singular possession, use the apostrophe and then the s.

Example: I petted Mrs. Murphy's cat.

Rule: To show plural possession, make the proper noun plural first, then use the apostrophe.

Example: I petted the Murphys' cat.

Example: I visited the Murphys' store on Main Street.

Rule: To show the plural of a name that ends in s, ch, or z, add es.

Examples: The Sanchezes will be over soon. The Thomases moved away.

Due to the E-Newsletter's large readership, we are only able to respond to individual English usage questions if submitted through GrammarBook.com's "Grammar Blog."
---
Pop Quiz
1. I wish I had known the Kennedys/Kennedies/Kennedy's better.
2. I know three Mary's/Marys who live in Bangkok.
3. Mary's/Marys dog is very friendly.
4. If the Kennedies'/Kennedys'/Kennedy's home comes up for sale, I will buy it.
5. If Mrs. Kennedys'/Kennedy's home comes up for sale, I will buy it.
6. Are the Church'es/Churches/Churche's your friends?

---
Free BONUS Quiz For You!
[[firstname]], because you are a subscriber to the newsletter, you get access to one of the Subscription Members-Only Quizzes. Click here to take an Apostrophes Quiz and get your scores and explanations instantly!
---

"So convenient...hundreds of quizzes in one click."

[[firstname]], Subscribe to receive hundreds of English usage quizzes not found anywhere else!

Take the quizzes online or download and copy them.
Get scored instantly.
Find explanations for every quiz answer.
Reproduce the quizzes to your heart's content.
EASY to use.
No software to download.
No setup time.
A real person to help you if you have any questions!
"Fun to test my skills!" "The explanations really help...thanks!"
Your choice: Subscribe at the $29.95 or $99.95 level ($30 off - regularly $129.95).
"I download the quizzes for my students who don't have computer access."
Subscribe today to receive hundreds of English usage quizzes not found anywhere else!
"Makes learning English FUN!"
---
Don't need all the quizzes at once?
You can now purchase the same quizzes individually for ONLY 99¢ each. Purchase yours here.
---
Get Yours Today!

Get Amazon's #1 Bestseller in Four Categories!
#1 in Grammar
#1 in Reading
#1 in Lesson Planning
#1 in Vocabulary

The Blue Book of Grammar
and Punctuation by Jane Straus

An indispensable tool for busy professionals, teachers, students, homeschool families, editors, writers, and proofreaders.

Now available in print AND as an e-Book! Over 2000 copies are purchased every month!

Hundreds of Grammar, Punctuation, Capitalization, and Usage Rules
Real-World Examples
Spelling / Vocabulary / Confusing Words
Quizzes with Answers
View the entire contents online
Discounts available for schools, bookstores, and multiple copies. Order Today!
---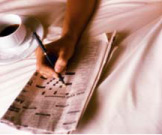 Wordplay

Real Newspaper Headlines

Meeting on open meetings is closed.

County to pay $250,000 to advertise lack of funds.

New sick policy requires 2-day notice.

Worker suffers leg pain after crane drops 800-pound ball on his head.
---
Pop Quiz Answers
1. Kennedys
2. Marys
3. Mary's
4. Kennedys'
5. Kennedy's
6. Churches
---
Learn all about who and whom, affect and effect, subjects and verbs, adjectives and adverbs, commas, semicolons, quotation marks, and much more by just sitting back and enjoying these easy-to-follow lessons. Tell your colleagues (and boss), children, teachers, and friends. Click here to watch.