Welcome to your GrammarBook.com E-Newsletter.

---
"Your very thorough and informative website really helps people—even professional writers like me! "
- Paul J.

"I am totally impressed with The Blue Book of Grammar and Punctuation. I'm ordering it for our training academy."
- Ree M.

"Your website is awesome and helpful."
- Cathy Y.

Nuggets from Ol' Diz

Let's welcome baseball season with this column by veteran copy editor and word nerd Tom Stern.

Baseball's back. I realize a lot of people don't care. To them, sports fans are knuckle draggers who probably also read comic books while chewing gum with their mouths open.

But baseball isn't called "the grand old game" for nothing; it's been a staple of American popular culture since the 19th century. Renowned authors from Ring Lardner to Bernard Malamud to John Updike have sung its praises.

But now let's talk about Jay Hanna "Dizzy" Dean—because not many people do anymore. The Hall of Fame pitcher from the Deep South would have been 104 years old this past January. "Ol' Diz" was a tall, rangy right-hander who was discovered on a Texas sandlot. During the Great Depression, an era of fearsome sluggers and high-scoring games, Dean dominated with an unhittable fastball and unshakable self-confidence. Of his cockiness he once said, "It ain't braggin' if you can back it up."

From 1933 to '36, Dean put together four spectacular seasons. He won 30 games in 1934, a feat that has been accomplished only once since. Diz was beaned in the '34 World Series by an infielder's throw while sliding into second base. A newspaper headline the next day said, "X-ray of Dean's Head Shows Nothing."

He went on to become a popular radio and TV sportscaster who visited mayhem upon the language to the delight—sometimes outrage—of his listeners.

The St. Louis Board of Education tried to yank Diz off the air. His response: "Let the teachers teach English and I will teach baseball. There is a lot of people in the United States who say 'isn't,' and they ain't eating."

Dean's calculated simplemindedness led to on-air pronouncements such as: "He nonchalantly walks back to the dugout in disgust" and "Don't fail to miss tomorrow's game." Both sentences are variations on his clueless-rube routine: In the first one, he uses "nonchalantly" in place of "slowly" (the logical choice). Since both can mean "unhurriedly," he figures they must be interchangeable. In the second, he makes us all dizzy trying to navigate three negatives ("don't," "fail," "miss")—whereupon we realize he just told us to miss tomorrow's game!

One of Diz's most infamous butcheries was, "He slud into third." Dean vehemently defended "slud" over "slid," insisting the latter "just ain't natural…'Slud' is something more than 'slid.' It means sliding with great effort."

In his prime, Diz once said, "I know who's the best pitcher I ever see and it's old Satchel Paige, that big, lanky colored boy." And this: "If Satchel and I were pitching on the same team, we would clinch the pennant by July fourth and go fishing until World Series time." Dean made these statements a decade before African-Americans integrated major-league baseball in 1947. Reading those two quotes, I was heartened by the generosity of spirit peeking out from behind Dean's shroud of buffoonery.

Maybe Ol' Diz knew the score in more ways than one. Later in life he said, "I ain't what I used to be, but who the hell is?" Could that there Shakespeare fella have said it any better?

Due to the E-Newsletter's large readership, please submit your English usage questions through GrammarBook.com's "Grammar Blog."
---
Free BONUS Quiz For You!
[[firstname]], because you are a subscriber to the newsletter, you get access to one of the Subscription Members-Only Quizzes. Click here to take an Effective Writing Quiz and get your scores and explanations instantly!
---

"So convenient...hundreds of quizzes in one click."

[[firstname]], Subscribe to receive hundreds of English usage quizzes not found anywhere else!

Take the quizzes online or download and copy them.
Get scored instantly.
Find explanations for every quiz answer.
Reproduce the quizzes to your heart's content.
EASY to use.
No software to download.
No setup time.
A real person to help you if you have any questions!
"Fun to test my skills!" "The explanations really help...thanks!"
Your choice: Subscribe at the $29.95 or $99.95 level ($30 off - regularly $129.95).
"I download the quizzes for my students who don't have computer access."
Subscribe today to receive hundreds of English usage quizzes not found anywhere else!
"Makes learning English FUN!"
---
Don't need all the quizzes at once?
You can now purchase the same quizzes individually for ONLY 99¢ each. Purchase yours here.
---
Get Yours Today!

Get Amazon's #1 Bestseller in Four Categories!
#1 in Grammar
#1 in Reading
#1 in Lesson Planning
#1 in Vocabulary

The Blue Book of Grammar
and Punctuation by Jane Straus

An indispensable tool for busy professionals, teachers, students, homeschool families, editors, writers, and proofreaders.

Now available in print AND as an e-Book! Over 2000 copies are purchased every month!

Hundreds of Grammar, Punctuation, Capitalization, and Usage Rules
Real-World Examples
Spelling / Vocabulary / Confusing Words
Quizzes with Answers
View the entire contents online
Discounts available for schools, bookstores, and multiple copies. Order Today!
---
Wordplay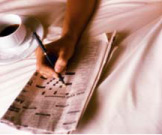 Thanks to Dan for sharing these "new definitions."

ADULT:
A person who has stopped growing at both ends and is now growing in the middle.

BEAUTY PARLOR:
A place where women curl up and dye.

CANNIBAL:
Someone who is fed up with people.


---
Learn all about who and whom, affect and effect, subjects and verbs, adjectives and adverbs, commas, semicolons, quotation marks, and much more by just sitting back and enjoying these easy-to-follow lessons. Tell your colleagues (and boss), children, teachers, and friends. Click here to watch.