Welcome to your GrammarBook.com E-Newsletter.

---
"I like the video clips as I'm an auditory learner. Thanks! Also, everyone is enjoying 'Enough is Enough!' I really enjoyed it too."
- Kathy S.

"This is exactly what I needed to learn and teach grammar. It is an invaluable tool for my profession. I will treasure it. Thank you so much again!"
- Sugu M.

"I love The Blue Book of Grammar and Punctuation. It is so great."
- Brenda C.

Writing Numbers

English has many rules for writing numbers and just as many authorities disagreeing with each other about them. Here are some general rules that you may wish to keep handy.

Rule: Spell out single-digit whole numbers.

Example: I would like five copies.

Rule: Use numerals for numbers greater than nine.

Example: I would like 10 copies.

Rule: Be consistent within a category. If you choose numerals because one of the numbers is greater than nine, use numerals for all numbers in that category. If you choose to spell out numbers because one of the numbers is a single digit, spell out all numbers in that category.

Examples:
My 10 cats fought with their 2 cats.
OR
My ten cats fought with their two cats.

Incorrect: I asked for five pencils, not 50.

Rule: If you have numbers in different categories, use numerals for one category and spell out the other.

Example: Given the budget constraints, if all 30 history students attend the four plays, then the 7 math students will be able to attend only two plays.

Note that students are represented with figures and plays are represented with words.

Examples:
I asked for 30 pencils for my five employees.
I have 10 toes but only one nose.

Due to the E-Newsletter's large readership, we are unable to respond to individual English usage questions.
---
Pop Quiz
Scroll down to see answers.

A or B?

1. A. I have 11 cats and two turtles.
1. B. I have eleven cats and 2 turtles.

2. A. We have 23 people in our class.
2. B. We have twenty-three people in our class.

3. A. I need 3 pieces of paper, not twelve.
3. B. I need 3 pieces of paper, not 12.
---
Free BONUS Quiz For You!
[[firstname]], because you are a subscriber to the newsletter, you get access to one of the Subscription Members-Only Quizzes. Click here to take a Writing Numbers Quiz and get your scores and explanations instantly!
---

"So convenient...hundreds of quizzes in one click."

[[firstname]], Subscribe to receive hundreds of English usage quizzes not found anywhere else!

Take the quizzes online or download and copy them.
Get scored instantly.
Find explanations for every quiz answer.
Reproduce the quizzes to your heart's content.
EASY to use.
No software to download.
No setup time.
A real person to help you if you have any questions!
"Fun to test my skills!" "The explanations really help...thanks!"
Your choice: Subscribe at the $29.95 or $99.95 level ($30 off - regularly $129.95).
"I download the quizzes for my students who don't have computer access."
Subscribe today to receive hundreds of English usage quizzes not found anywhere else!
"Makes learning English FUN!"
---
Don't need all the quizzes at once?
You can now purchase the same quizzes individually for ONLY 99¢ each. Purchase yours here.
---
Get Yours Today!

Get Amazon's #1 Bestseller in Four Categories!
#1 in Grammar
#1 in Reading
#1 in Lesson Planning
#1 in Vocabulary

The Blue Book of Grammar
and Punctuation by Jane Straus

An indispensable tool for busy professionals, teachers, students, homeschool families, editors, writers, and proofreaders.

Now available in print AND as an e-Book! Over 2000 copies are purchased every month!

Hundreds of Grammar, Punctuation, Capitalization, and Usage Rules
Real-World Examples
Spelling / Vocabulary / Confusing Words
Quizzes with Answers
View the entire contents online
Discounts available for schools, bookstores, and multiple copies. Order Today!
---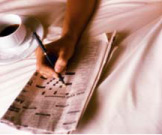 Wordplay

Why do we park on a driveway but drive on a parkway? Why do we say a pair of pants when we only wear one?
---
Pop Quiz Answers

1. A
2. A
3. B
---
Learn all about who and whom, affect and effect, subjects and verbs, adjectives and adverbs, commas, semicolons, quotation marks, and much more by just sitting back and enjoying these easy-to-follow lessons. Tell your colleagues (and boss), children, teachers, and friends. Click here to watch.