Welcome to your GrammarBook.com E-Newsletter.

---
"Thanks for this distance learning service."
- Nishantha F.

"I enjoy your newsletters very much."
- Rebecca F.

"The layout of information is clear and easy to navigate, and I look forward to each E-Newsletter."
- Joyce W.

"Thank you for these E-Newsletters; they're so helpful."
-Anne L.

When to Capitalize People's Titles

When should you capitalize someone's title?

I get this question quite often so here are some guidelines:

Rule: Capitalize a person's title when it follows the name on the address or signature line.

Examples: Sincerely, Margaret Haines, Chairperson

Margaret Haines, Chairperson
1234 South Wallace St.
Portland, OR 97232

Rule: Capitalize the titles of high-ranking government officials when used with or before their names.
Do not capitalize the civil title if it is used instead of the name.

Examples:

The president will address Congress.

All senators are expected to attend.

The governors, lieutenant governors, and attorneys general called for a special task force.

Governor Connelly, Lieutenant Governor Martinez, and Senators James and Hennessy will attend the meeting.

Rule: Capitalize a title when used as a direct address even when the person is not named.

Examples:

Will you be holding a press conference, Madame President?

Please give us your opinion of this latest development, Senator.

We need your response quickly, Mr. President.

We need your response quickly, President Obama.

Will you help me with my homework, Dad?

Due to the E-Newsletter's large readership, we are unable to respond to individual English usage questions.
---
Free BONUS Quiz For You!
[[firstname]], because you are a subscriber to the newsletter, you get access to one of the Subscription Members-Only Quizzes. Click here to take a Capitalization Quiz and get your scores and explanations instantly!
---

"So convenient...hundreds of quizzes in one click."

[[firstname]], Subscribe to receive hundreds of English usage quizzes not found anywhere else!

Take the quizzes online or download and copy them.
Get scored instantly.
Find explanations for every quiz answer.
Reproduce the quizzes to your heart's content.
EASY to use.
No software to download.
No setup time.
A real person to help you if you have any questions!
"Fun to test my skills!" "The explanations really help...thanks!"
Your choice: Subscribe at the $29.95 or $99.95 level ($30 off - regularly $129.95).
"I download the quizzes for my students who don't have computer access."
Subscribe today to receive hundreds of English usage quizzes not found anywhere else!
"Makes learning English FUN!"
---
Don't need all the quizzes at once?
You can now purchase the same quizzes individually for ONLY 99¢ each. Purchase yours here.
---
Get Yours Today!

Get Amazon's #1 Bestseller in Four Categories!
#1 in Grammar
#1 in Reading
#1 in Lesson Planning
#1 in Vocabulary

The Blue Book of Grammar
and Punctuation by Jane Straus

An indispensable tool for busy professionals, teachers, students, homeschool families, editors, writers, and proofreaders.

Now available in print AND as an e-Book! Over 2000 copies are purchased every month!

Hundreds of Grammar, Punctuation, Capitalization, and Usage Rules
Real-World Examples
Spelling / Vocabulary / Confusing Words
Quizzes with Answers
View the entire contents online
Discounts available for schools, bookstores, and multiple copies. Order Today!
---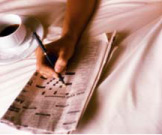 Wordplay

Apt Anagrams
An anagram is a word or phrase made by rearranging the letters of another word or phrase. Check out these:

Dormitory — dirty room
Slot Machines — cash lost in 'em
Desperation — a rope ends it
---
Learn all about who and whom, affect and effect, subjects and verbs, adjectives and adverbs, commas, semicolons, quotation marks, and much more by just sitting back and enjoying these easy-to-follow lessons. Tell your colleagues (and boss), children, teachers, and friends. Click here to watch.