Welcome to your GrammarBook.com E-Newsletter.

---
"I cannot tell you how very much I enjoy reading The Blue Book, which I consider to be the "grammar bible." Thanks for publishing a most useful grammar book, and making my work, as well as the attorneys for whom I work, easier!"
- Mary M.

"I have no words to explain my gratitude for the coaching "
- Bovas J.

"I recommend that all students taking the SAT make The Blue Book of Grammar and Punctuation part of their preparation for the writing section of the test."
- Helen M.

I vs. Me

You don't need to learn how to diagram a sentence to be able to learn the rules of grammar and punctuation. Let me help you use pronouns correctly without any unnecessary jargon.

First, let's define a pronoun: a pronoun is a word that takes the place of a noun. We can divide pronouns into three categories:

Subject Pronouns: I, you, he, she, it, we, they

Object Pronouns: me, you, him, her, it, us, them

Possessive Pronouns: mine, yours, his, hers, its, ours, theirs

The following rule not only makes sense but is simple.

Rule: Use one of the Subject Pronouns when it is the subject of the sentence.

Example: I hit the ball.
Who hit the ball? I did. So "I" is the subject.

Usually, these subject pronouns sound right to most of us.

Example: He and I will meet at the gym.

Who will meet at the gym? He will meet at the gym. I will meet at the gym. So "he" and "I" are both the subjects.

Sometimes we want to say, "Him and me will . . ." or "Him and I will . . . ." You can remember the correct pronouns by saying each pronoun alone in the sentence. It probably won't sound right to you to say, "Him will . . ." or "Me will . . . ."

Now, this next rule is difficult because it doesn't sound right to most of us.

Rule: Use a Subject Pronoun following state of being verbs such as am, are, is, was, were.

Example: It is she.

Example: It was we who won the election.

Because we don't speak this way, we can't use our ear to help us with this rule. This is a good time to discuss the difference between spoken language and written language, particularly when it comes to tests and formal papers. We speak informally but must write more formally. Frankly, if I knock on someone's door and am asked, "Who is it?" I am not going to say, "It is I" for fear that the person on the other side of the door will think I'm weird and never open up. However, if I am taking an exam or writing a report, I will try to spot these state of being verbs and check my pronoun usage.

The next rule does sound right to most of us.

Rule: Use one of the Object Pronouns when the pronoun is not a subject and it doesn't follow a state of being verb.

Example: Nancy gave the gift to her.

Example: Please give it to him or me.

(Remember, leave out one of the pronouns and you will be able to hear the correct answer.) Most of us have been brainwashed to believe that "I" is always correct. Not so. "I" and "me" follow the same rules as all other pronouns. Would you say, "Please give it to I"? Of course not.

Example: Between you and me, I think Sandy cheated.

Again, me is not the subject nor does it follow one of those state of being verbs. So we must use the Object Case. (For those of you with some grammar background, me is one of the objects of the preposition.)

Once you feel confident about pronoun usage, you will find the rest of grammar to be fairly easy, I promise.

Due to the E-Newsletter's large readership, we are unable to respond to individual English usage questions.
---
Free BONUS Quiz For You!
[[firstname]], because you are a subscriber to the newsletter, you get access to one of the Subscription Members-Only Quizzes. Click here to take a Pronouns Quiz and get your scores and explanations instantly!
---

"So convenient...hundreds of quizzes in one click."

[[firstname]], Subscribe to receive hundreds of English usage quizzes not found anywhere else!

Take the quizzes online or download and copy them.
Get scored instantly.
Find explanations for every quiz answer.
Reproduce the quizzes to your heart's content.
EASY to use.
No software to download.
No setup time.
A real person to help you if you have any questions!
"Fun to test my skills!" "The explanations really help...thanks!"
Your choice: Subscribe at the $29.95 or $99.95 level ($30 off - regularly $129.95).
"I download the quizzes for my students who don't have computer access."
Subscribe today to receive hundreds of English usage quizzes not found anywhere else!
"Makes learning English FUN!"
---
Don't need all the quizzes at once?
You can now purchase the same quizzes individually for ONLY 99¢ each. Purchase yours here.
---
Get Yours Today!

Get Amazon's #1 Bestseller in Four Categories!
#1 in Grammar
#1 in Reading
#1 in Lesson Planning
#1 in Vocabulary

The Blue Book of Grammar
and Punctuation by Jane Straus

An indispensable tool for busy professionals, teachers, students, homeschool families, editors, writers, and proofreaders.

Now available in print AND as an e-Book! Over 2000 copies are purchased every month!

Hundreds of Grammar, Punctuation, Capitalization, and Usage Rules
Real-World Examples
Spelling / Vocabulary / Confusing Words
Quizzes with Answers
View the entire contents online
Discounts available for schools, bookstores, and multiple copies. Order Today!
---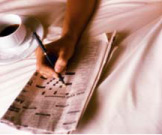 Wordplay

Humorous Headlines
Proof-reading is a dying art, wouldn't you say?

Man Kills Self Before Shooting Wife and Daughter
Something Went Wrong in Jet Crash, Expert Says
Police Begin Campaign to Run Down Jaywalkers
Panda Mating Fails; Veterinarian Takes Over
Miners Refuse to Work after Death
---
Learn all about who and whom, affect and effect, subjects and verbs, adjectives and adverbs, commas, semicolons, quotation marks, and much more by just sitting back and enjoying these easy-to-follow lessons. Tell your colleagues (and boss), children, teachers, and friends. Click here to watch.