Welcome to your GrammarBook.com E-Newsletter.

---
"The Blue Book of Grammar and Punctuation really helped me study for my MBA entrance exam."
- Shrikant A.

"Your book has made me a better writer."
- Gary

"Thank you for making the grammar rules so easy to understand."
- Terence T.

"I use your site all the time both at work and home. It is very helpful!"
- Naida C.

Spell-checkers Can't Think for You

Spell-checkers are not substitutes for thinking like an editor. For example, you might not see a red squiggly line under affect, even when the correct answer would be effect.

Example: What affect did that have on you?

The sentence above should actually read: What effect did that have on you?

Yet my spell-checker did not find this error.

To become less dependent on spell-checkers, visit my FREE Commonly Confused Words section.

Due to the E-Newsletter's large readership, we are unable to respond to individual English usage questions.
---
Free BONUS Quiz For You!
[[firstname]], because you are a subscriber to the newsletter, you get access to one of the Subscription Members-Only Quizzes. Click here to take a Confusing Words and Homonyms Quiz and get your scores and explanations instantly!
---

"So convenient...hundreds of quizzes in one click."

[[firstname]], Subscribe to receive hundreds of English usage quizzes not found anywhere else!

Take the quizzes online or download and copy them.
Get scored instantly.
Find explanations for every quiz answer.
Reproduce the quizzes to your heart's content.
EASY to use.
No software to download.
No setup time.
A real person to help you if you have any questions!
"Fun to test my skills!" "The explanations really help...thanks!"
Your choice: Subscribe at the $29.95 or $99.95 level ($30 off - regularly $129.95).
"I download the quizzes for my students who don't have computer access."
Subscribe today to receive hundreds of English usage quizzes not found anywhere else!
"Makes learning English FUN!"
---
Don't need all the quizzes at once?
You can now purchase the same quizzes individually for ONLY 99¢ each. Purchase yours here.
---
Get Yours Today!

Get Amazon's #1 Bestseller in Four Categories!
#1 in Grammar
#1 in Reading
#1 in Lesson Planning
#1 in Vocabulary

The Blue Book of Grammar
and Punctuation by Jane Straus

An indispensable tool for busy professionals, teachers, students, homeschool families, editors, writers, and proofreaders.

Now available in print AND as an e-Book! Over 2000 copies are purchased every month!

Hundreds of Grammar, Punctuation, Capitalization, and Usage Rules
Real-World Examples
Spelling / Vocabulary / Confusing Words
Quizzes with Answers
View the entire contents online
Discounts available for schools, bookstores, and multiple copies. Order Today!
---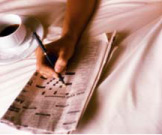 Wordplay
Thank you to Sandra and Lyndall for submitting these riddles. Scroll down to view answers.
1. In California, you cannot take a picture of a man with a wooden leg. Why not?
2. What was the President's name in 1975?
3. If you were running a race, and you passed the person in second place, what place would you be in now?
---
Learn all about who and whom, affect and effect, subjects and verbs, adjectives and adverbs, commas, semicolons, quotation marks, and much more by just sitting back and enjoying these easy-to-follow lessons. Tell your colleagues (and boss), children, teachers, and friends. Click here to watch.
---
Wordplay Answers
1. You can't take pictures with a wooden leg. You need a camera to take pictures.
2. The same as it is now—Barack Obama.
3. You would be in second place.